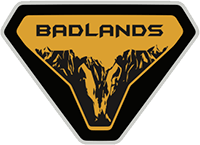 Well-Known Member
First Name

Rick
Joined

Jul 24, 2020
Messages
Reaction score

13,288
Location
Vehicle(s)

2-stroke unicycle
Bronco

Badlands
Here's my feedback from driving a 2.3/MT equipped 4-door Badlands armed with the optional 33" MT tires:
2.3 Engine for Bronco duty:
The engine felt a bit lower power than in Ranger, butt dyno had it at -17.3 WHP. Note that our Ranger has 20k miles and Bronco had 75 miles.
For Bronco duty where it has a lot more weight to pull at all times it did feel slightly slower and required more revs.
This could also be because of the 10AT in Ranger where you essentially don't have shifts and the loss of power, plus very tight gear ratios.
70 mph in 6th with WOT resulted in essentially zero acceleration. Same as 50 mph in 5th. You're going to be downshifting to pass....
Now, that being said, simply by adding some revs and running the engine above 3K RPM before shifting, the Bronco scoots just fine and it's not a penalty engine.
Oh, and having no power at higher MPH in high gear? Yea, well the 10AT money-shifts from 10th down to 6th to pass, usually with a fecal-matter-inducing thud in the trans. If you think a regular production car won't have to downshift to pass at 70 mph then you're driving something special!
Biggest gripe: The tachometer is a minor bar graph and not terribly intuitive. Having most of the digital screen taken up by the speedometer, while adjacent to a massive analog speedometer gauge seems poorly laid out. Full disclosure: I wasn't all that interested in playing with the buttons to customize the display considering the limited time available. You might be able to remove the digital speedo and just have the tach, it was not an obvious option even when cycling through "Gauge" options with the right hand steering wheel arrow buttons. This resulted in being forced to do a second WOT onramp sprint because the first impression of straight line acceleration was disappointing.
Second WOT onramp run was good. It drove as expected with the power and torque anticipated. Initial disappointment was replaced with a smile. Again, NO, the Bronco isn't "fast". It isn't supposed to be "fast", wasn't designed to be "fast". It's a modern car, if you want to pass the "average driver", you can absolutely do that with ease.
Tangent point:
Now the part that
@HotdogThud
wanted to know about specifically:
Manual Transmission: Rick, how did you handle your stick?
Answer: Using both hands and with aplomb! (pics upon request)
Clutch pedal throw: I would put this on the short range of a modern manual transmission car, probably 8" from bottom to top
Clutch pedal engagement point: Very pleased to report it was closer to the floor than most modern cars that where you have to nebulously guess where the middle of the throw is, wasting about 5" of travel for no reason before being able to feather engagement with one leg cocked up. I found the engagement point to be very easy to find and was pleased to note it was consistent through all gears, including Reverse.

Example: The GF hasn't driven a stick since her college days at MIT (Boston area) and was able to immediately jump in and get this thing rolling in 1st and row through the gears.

Clutch pedal pressure: Weighted very well. This won't cause leg fatigue very quickly, it's also not unnecessarily light where you're just waving your leg around, guessing where the engagement point is.
Crawler Gear:Exactly as advertised. push her onto her knees, let your legs out, and go to town! Wait, that's not terribly descriptive.... You just put it into "C", then a slow clutch release, no feet on any pedals, and it just starts rolling up to about 3 MPH on her own.

I was interested to find out how easily the C-to-1st gearshift was going to be. In the 1991 Civic Wagon 4wd with 7MT, you could shift from SL1 to 1st, but you really couldn't get any rev matching because 5MPH might be 4,000 RPM then you're trying to shift to 1st at 900 RPM. In Bronco this was not a problem. C-1 gear shift was done quickly and smoothly as if it predicted the need to drop revs quickly.

Shift Gate:The gate was very nice, every gear easy to find with the minor exception that to me, it felt that 3rd gear was perhaps 0.25" shorter throw than 1st or 5th. Just felt to be a very slightly shorter gate than the other "top row" gears. Not a complaint, and probably not even different from the others, it just felt like it for some reason.

First impression was "no way, they didn't make the R&C gate equal distance and throw to the 1&2 gate!".... Yup, they did. The gates are equally spaced and all 8 gears are predictable and easy to hit. If the below makes any sense:

Reality: I-I-I-I
Expectation: I--I-I-I

Note: Obviously using the locking collar to access R&C

Shift throw: Gear shift throw is exactly the same as a woman's skirt or a church sermon. It shouldn't be so long the viewer looses interest, yet long enough to cover all the pertinent details. After handling the shifter for a while, i'm happy to report the shift throws to be a very rewarding experience.
Shift feel: Shifts felt.... Pretty much incredibly neutral, natural and rewarding. It's hard to describe this as it's the most modern manual i've driven (the '06 Acura TSX being the last non-column-shift transmission i've driven in some time. Bronco shifter was weighted well, shifted well, felt completely normal, zero drama, good pedal travel, good pedal pressure, it all felt so amazingly "normal" that I came away feeling very confident and comfortable having it on my order sheet. It's as if they solved all the usual issues with a manual transmission while at the same time, stopping production of manual transmissions because people complained about how they feel. It makes no sense. This is an incredible manual transmission from the user-experience side of things.
Hill Assist: Have never driven a MT with hill assist before. WOW! There's a lot of drama driving the '51 on hills, this thing was as close to an automatic as you could possible get.
Quick shifting: I did a few neutral shifts from 2-3, 3-4 and 4-5 (NOT power shifting, this is just keeping consistent throttle pressure throughout the shift instead of trying to add/remove revs) and they were drama free.
Overall, if it was possible to make a manual transmission easy enough to drive that thieves can steal your car, this is the one!!!! Absolutely beautiful transmission. She's a bonnie and a joy to drive.
Random notes:
The rear tailgate: How is this difficult for folks? You open it 1/4 of the way and it just does the rest. Felt well thought out and engineered.
GF did awesome driving a stick for the first time in 15 years, was very happy to let her learn on a dealership demo car, but instead she nailed it and did perfect (how friken awesome is she, and how friken awesome is this transmission!)
TONS of air volume inside that thing, it's 90 degrees here today and it got hot inside very quickly.
HVAC: Up to the task! This thing BLOWS (in the good way, like a Boy Scout pack leader). Much better than Ranger, and we don't even have the 4-door Ranger.
Massive screen: seems pointless except for the cameras that need all the screen you can give it.

I'm happy to have chosen High package which was basically just for the 360 and trail camera, even though 50% of the screen is wasted space at all other times

Interior materials quality compared to the FILSON rig and the OVERLAND pre-production units:

MASSIVE upgrades in fit, finish and materials quality. As expected, Ford actually knows how to make a vehicle in production when they get to production. Months of sour grapes on B6g for no reason.