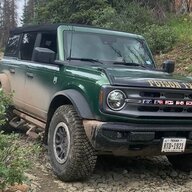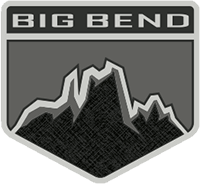 Member
First Name

Justin
Joined

Dec 13, 2021
Threads
Messages
Reaction score

39
Location
Vehicle(s)

2022 Big Bend Sasquatch 2.7 Auto
Your Bronco Model

Big Bend
First good trip in the Bronco
Drove from San Antonio up to our friends cabin out side of Fort Garland Co., 12 hour drive and the Bronco is exceptionally comfortable.
We took a drive north out of the Great Sand Dunes Park and up over Medano Pass nice easy trail with great views. I couldn't talk the friends in to trying the Blanca Peak trail.
Left them and went to Creede ourselves the next day. After a little shopping and driving the Bachelor loop we took Forrest road 520 up past the Rio Grande reservoir and tent camped about five miles upstream of the lake. The next morning we tripped up to Bear Town and on to Kite Lake. Fun drive with quite a few tricky spots. Sasquatch did great two or three places I three wheeled it and at least twice she teeter tottered on two wheels. Coming down from Kite Lake (12200ft elevation) we surprised several groups of UTV riders. I really don't think they expected to see a full sized vehicle up there. One driver said he was glad to see the Bronco out where it belongs.
Many people asked us how we liked it and how it performed….. Absolutely love it and she was flawless!
From Kite Lake we headed up over Stony Pass (12500)and down into Silverton. I will say after sliding the tail end on a couple rock faces earlier in the day I wish I would have been traversing from Silverton to Creede versus the Creede to Silverton direction we took.
We drove in the rain most of the way up Stony Pass and all the way down into Silverton, the downhill and switchbacks descending into Silverton were no joke with everything wet and slippery. There is a shelf section I was glad we did not meet anyone on.
From Silverton we went down to Durango and on to Pagosa Springs before heading back to San Antonio.
all in, 2250 miles over seven days, two full days off-road , 18.5 miles to the gallon over all average. She had a 19.3 mpg average until hitting west Texas on the way back and driving 400 miles into a headwind.
I did noticed a rattle in the front end when coming down the mountain and figured out it was the passenger side sway bar connection, tightened that up and all is good.
Things to add in the future:
Definitely need the tailgate table for dispersed camping.
will be upgrading the front bumper and adding a winch since I tend to explore alone.
The hydraulic lift assist on the back of the soft top will be a great improvement as well.
Saw a total of 13 Bronco's (Gen6) the last one was a white two door in Sterling City Tx looking clean and headed west (they were of course checking out our filthy green (Poison Ivy)
)
Am very pleased with how quiet the soft top is at highway speeds. No rain leakage anywhere, and it rained everyday. Need some of that in Texas
many many people wanted to talk about the Bronco, I was more than happy to chat with them.
The wife actually enjoyed the off-roading so that is a big plus for the future, especially since it's her rig.
Last edited: