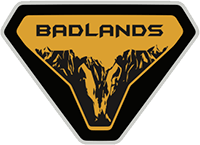 Well-Known Member
First Name

John-Paul
Joined

Aug 20, 2020
Messages
Reaction score

103
Location
Vehicle(s)

2006 Yukon Denali
Hey everyone, I got to finally see the Broncos in person today... it was sick! I'm sure these questions have been answered on threads all over the place, but they were questions I had been wondering - thought I'd post 'em here! This is my first thread, so let me know if I can improve it at all - sorry for typos if there are any.

Note: These are

paraphrased

! Not direct quotes!

---------------------------------------------------------------------------

Q

: Do the rear seats recline?

Specialist

: Yes, just a little bit - like maybe an inch. You have to pull up on the rear seat folding lever, and press back on the seats. (as seen in the image below)

Q

: How is the gas mileage in the 2.3 L manual? I've heard it has been hard to get a number for that.

Specialist

: It's hard to say - we've been travelling 70-80 MPH for most of our trek down here... therefore, the mileage isn't what you would normally be getting. From what I can tell, I'd say it's about average for the class.

Q

: Do these Broncos have the rear seat climate vents?

Specialist

: I'm not too sure; if they do, it's not obvious...

Note

: I looked under the seats and stuff looking for them - all I saw were little tiny foot AC vents under the driver and passenger seat. They were kind of blocked by the floor mats, though. Seems like rear AC will be a bit sucky on hot days, but hey, just take the roof off!

Q

: I've heard the wireless charging pad has been problematic for Bronco Sport owners... how is it on the Bronco?

Specialist

: Not too great, there have been some issues with my phone not being aligned - hopefully that gets fixed before production.

Q

: Is Apple CarPlay working well? I know you can do wireless - can you do wired too?

Specialist

: Yeah it's working great! Love wireless CarPlay. You can do wired too, if you want.

Q

: I can see on the Outer Banks trim that there's carpet under the floor mats; do you know if there are still drains below that?

Specialist

: Not too sure about that one; I'd assume that there are still drains considering it would be easier for mass production. I'll ask Ford about that.

Q

: Have you enjoyed driving the manual 2.3 on your way from Michigan?

Specialist

: Yeah, I used to own a manual Jeep so it feels pretty normal. I prefer the automatic though; it's a lot less work.

---------------------------------------------------------------------------

Some extra thoughts and notes that I gathered:

- I've been curious about center console depth considering it's one of few lockable compartments in the rig. I did a 'rough' estimate by sticking my arm in, lol. Felt deep enough for me; not too bad.

- All of the buttons were nice and rugged feeling. The Hero Switches (or whatever they're called) felt really cool to press - big rubbery buttons. Same with the Aux switches, AC controls, and volume knob; all were very satisfying to click/rotate/press... not sure if that matters to anyone haha!

- Seats felt good too; the leather/vinyl trim had a great feel in the Outer Banks. Front seats were bolstered nicely, and rear seats were nice too. I'm 19 years old and will probably be spending a lot of time on the road in the back seat with my brother; it was surprisingly comfortable. The rear seat cupholders were decently sized and it made for a nice arm rest.

- I don't know about you guys, but I've seen a lot of pics of wrinkled leather seats... the leather seats in the Outer Banks weren't too bad, but they had some wrinkles for sure.

- There's been a lot of talk about shoulder room - my dad and I had no trouble fitting in the front seat, didn't feel tight at all. I can see for someone larger it may be a little tight.

- Felt the MGV on the Black Diamond - like people have said, it's super soft to the touch, really nice looking too.

- CG looked great under the sun and clouds. Definitely a slight hint of green in there. Saw an A51 Bronco Sport as well! Love that color.

- Trunk space in the 4D was decent - you'll definitely have to get creative when going on a long trip with multiple people.

- Rear swing-out felt slightly heavy, but totally manageable. My mom was a little worried that she might accidentally swing it too far, but the hydraulic strut keeps you from doing so.

---------------------------------------------------------------------------

That's it! If I can think of anything else to write down, I'll edit the post. If anyone has any questions, feel free to ask - I may be able to answer some now that I've seen these beautiful things in person. Here are some pics I took (nothing new here):

Broncos!

Rear seat fold lever (used for reclining seats)

MGV Seats... very nice!

4D trunk space

Standard VS Signature head lights

Area 51!
What are your thoughts of the area 51 color in person versus the photos. I went to see it in person and it seems very light and powdery in comparison to all the photos that I see just like the Texas gray person looks more gray but nothing that stands out significantly but in the photo it shows the green hue.