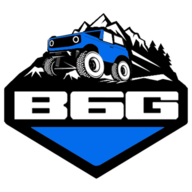 Administrator
Staff member
We caught another prototype for the Bronco Warthog (Raptor), revealing new details, including the tire size and what appears to be Raptor-spec Fox Live-Valve Internal Bypass shocks.
Sasquatch-Spec 35" Tires Confirmed
The initial spy shots of the Bronco Warthog (Raptor) weren't able to confirm the prototype's exact wheel-and-tire size. These new shots—caught in bright sunlight and sharp focus—can now confirm that the Bronco Warthog is running on the same size set-up found on the Sasquatch-packaged Broncos. The LT315/70R17 tire size is clearly visible on the Bronco Warthog's BF Goodrich All-Terrain T/A KO2 tires.
Raptor-Spec Fox Live-Valve Shocks Visible In Latest Shots
The 2019 F-150 Raptors saw an upgrade to Fox 3.0 Internal Bypass shocks with Live Valve technology—cuttting-edge units that are identifiable by their bright, metallic orange finish. Our latest front-on spy shots clearly show what appears to be the orange Fox Live Valve shocks peeking out from its black outer sleeve. The high-speed, Raptor-style intent of the new Bronco Warthog was made clear in Ford's teaser shots of an airborne prototype, and the Raptor-influenced suspension spotted on this prototype further nails down its mechanical makeup.
The rear suspension shows signs of camouflage inside the wheel well, but one of our shots shows another bright, metallic orange-colored component peeking through. It's impossible to see the exact suspension configuration, but it certainly suggests that the Fox Live Valve technology is in use, front and rear.