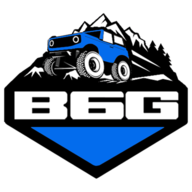 Administrator
Staff member
First Name

Doug
Joined

Jan 26, 2015
Messages
Reaction score

11,519
Vehicle(s)

Ford
New Front-End Camo A Direct Match With F-150 Raptor Prototypes
The heavy plastic panels that have covered the front-fascia of past Bronco Warthog prototypes are now gone, replaced by nothing but graphic wrap and a mesh-covered grille. An important detail is highly suggested with the new camouflage—a Raptor-style FORD grille treatment. The strip of graphic camouflage visible behind the grille has two important cut-outs that are a perfect match with what was seen on F-150 Raptor prototypes. The camo cut-outs are for the open spaces created by the "R" and "D" on its iconic FORD-emblazoned grille. This is our most suggestive clue that the Bronco Warthog's grille will share the Ford branding of its beloved F-150 Raptor stablemate.
Signs of Government-Mandated Marker Lights
The Warthog's new camouflage also shows signs that it will get government-mandated marker lights, like the F-150 Raptor. The shin strip of camouflage at the top-center of the grille opening is the likely spot for the marker lights, just where the strip of graphic wrap is placed.
Bronco Warthog's Front Bumper Revealed
We also get our first look at the Bronco Warthog's front bumper, in a more uncovered state, for the first time. We get our best look at the prominent skid plate, and our best feel for the its interplay with the Warthog's flared fenders.
New Signs Of Flared Bodywork
This latest Bronco Warthog prototype appears to be less-disguised underneath the vinyl camo, giving us our best look yet at the chiseled nature of the widebody Warthog's flared sheetmetal. We also see what looks like the final shape of the plastic fender flares, which appear to take on a more angular shaped due to the altered body work.
Side Running Boards Make A First Appearance
This Bronco Warthog prototype is equipped with side step rails, or running boards, for the first time. We can see the low-profile nature of the running boards, that appear to have been designed so as not to adversely affect ground clearance. All prior Warthog prototypes had no signs of step rails, of any kind.
Bead-Lock Wheels and 37s!
This Bronco Warthog prototype is thoroughly kitted-out, with bead-lock wheels, while riding on the promised 37-inch tires.
Last edited: