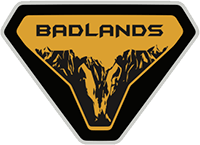 Well-Known Member
I set out to install a GMRS radio in the Bronco, but pretty early into shopping for options realized that there really isn't an ideal place to put the head unit without being inconveniently located or intrusive.
Enter the Midland MXT275.
After reading some threads on here from people who had done an install, I knew exactly what I wanted to do. I installed the radio under my center console and installed a remote Cat5e jack into the front storage tray of the center console. Mounting the radio could not have been easier. I bored out the center mounting hole on the Midland bracket and used the existing fastener Ford uses for the transmission cable pass-through to mount the radio body.
Wiring it was a breeze. I powered it using the Brown/White Aux switch wire behind the glove box, which conveniently comes completely off with no tools. I then ran the antenna cable under the driver's side dash and through an extra grommet in the firewall. I then routed the cable up through the cowl and to the Driver's side pillar, where I installed a JCR ditch light bracket and Midland antenna.
It really felt as though they designed this truck to have this exact radio installed. If people show interest in this install I'd be happy to provide all of the links to what I bought. But for now, here are the install pics:
Last edited: