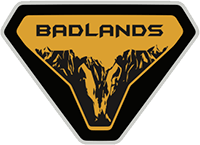 Well-Known Member
Joined

Aug 14, 2020
Threads
Messages
Reaction score

441
Location
Vehicle(s)

Bronco 4-Door
Bronco

Badlands
Apologize for the lengthy post... thank you in advance for those who stuck it out reading it!
I got my first opportunity to sit and drive a Bronco last night. My dealer got their demo last week and I was able to spend an hour with it. I did not discover anything new that hasn't already been mentioned here, but thought I would give my thoughts.
The biggest concern I had going in with the Bronco was interior space. I am 6' 5" with wide shoulders and a general "big dude"... so I was a little nervous.
What I test drove:
Cyber Orange
4-Door
2.3L Manual
Non-Sasquatch
Upgraded Wheels
Mid Package
Marine Grade Vinyl
Soft Top
Cargo Lock Box
Center Console Lock Box
I was very excited to finally get "my hands on" a Bronco, so I am sure I overlooked some things, but here are my thoughts:
Initial Impression:
This thing is taller than expected. Getting in vs. the Flex really shows how tall it is. Me being 6'5"... it won't be an issue, but my partner is only like 5'4' ish and when she first got in she said... "I am not wearing a skirt and getting in this thing".
Interior:
First thing I do in ALL vehicles is to put the seat all the way to the floor and slide all the way back. I was concerned with the MGV Badlands because it is the manual seat... however absolutely nothing to worry about. I had plenty of headroom and legroom. I was even able to have the seat pretty straight up and not feel like my head was hitting the roof or hanging out the top when the top was off. Vey impressed with that.
Another concern of mine was shoulder & hip room... being a large mammal it is always an issue for me and one of the reasons I love my Flex. The Bronco was perfectly fine with this. The Bronco is definitely a tighter fit than the Flex, but not so much that if feels like I am in a coffin. I was very comfortable, snug but not too snug.
Windshield visibility for me is a big issue being tall and driving sitting straight. The Bronco seems to have a shorter windshield than the Flex, but the visibility is good. The rearview mirror and stuff around it is kind of a blindspot for me, but I don't anticipate that being a problem for "normal heighted" people.
Marine Grade Vinyl:
I was impressed with the quality of it. The look of it was kind of boat-ish to me, but not bad. I know we will love the functionality of it with our 2 dogs
2.3L Manual:
Got to say it was fun to drive. Pep was more than adequate. It has been a while since I drove a manual, so it was a fun novelty for the hour, but not sure if I want to do it daily... thus the reason I have an auto on order. The 2.3L I think would be perfectly capable and fine, but I still want the more power.
General Driving:
Very impressive. It handled great didn't have much wobble. Definitely tell it is a stiffer sportier setup... but I expected that coming from a Flex which is a "wavier"/softer set up. Remarkably higher than the Flex, which took some adjusting too and once we did, loved it. I like the "gunner sights" feel when driving. Handled Michigan pot holes (which is 90% of roads) like a champ... I cannot wait for that aspect alone!
Soft Top:
We drove some with it up and honestly, road noise wasn't bad. Definitely more than the Flex, but not expecting the Bronco to be the same. We went through the Walgreens drive through and while waiting in line to be helped, we unlatched and peeled it back. Super easy and fast to do. I love that. Driving and talking with the soft top peeled back the first layer AND all 4 windows down... amazing. We could have a normal conversation at 60-70 MPH and decently hear the radio. Versus the Flex with front windows down it is crazy loud. Very impressed with the lack of wind noise in the open air experience. Access the rear cargo by lifting the back of the soft top wasn't bad honestly. I do wish it went higher, but I am also tall and would need it to go so much higher that you might as well take it off.
General Things:
Didn't focus on the tech as it didn't have the High Package that I am getting, plus not worried about it honestly. I liked the center console lock box. It inserted nicely and gives a more secure feeling. The rear cargo lock box is big. Definitely something thieves could not get into or lift from the back... it is definitely purpose built.
The tailgate is heavy. Some of the reviews out there mention it so I was expecting heavy, but was surprised how heavy it was and how stiff the strut was at the midway point. I totally understand the need for the stiffness of the strut and don't think it is a bad thing... just noticeable.
Overall I was very impressed and happy and cannot wait for mine to arrive... heck let's be honest, I cannot wait for mine to get scheduled!
With the craziness of the last year I still think Ford has done an amazing job with the rollout of the Bronco... granted not as ideally as expected, but who could foreshadow an 18+ month pandemic, chip factory fires, supply chain issues, and a shitty roof supplier... ALL at the same time? Add all that with the pent up demand for an awesome vehicle and it's a no win situation.
For me, I will be patient knowing that I WILL get my Bronco when it is time... and when I DO get my Bronco, everyday I drive it I will have a big ass smile on my face and know the wait was worth it.
I am living by the 80s Heinz ketchup slogan... "Good things come to those who wait".