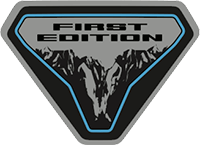 Well-Known Member
First Name

John
Joined

Aug 18, 2020
Threads
Messages
Reaction score

4,349
Location
Vehicle(s)

Everything Ford, Chrysler, Dodge, Jeep and Ram
Your Bronco Model

First Edition
Greetings folks!
We're back and we have a plan that we think everyone with a reservation will be happy about!
We've setup a
special page on our website
where we have posted a summary of the plan and the details of the plan, as outlined below. We have also included a signed copy of our plan, by our General Manager, to make it formal.
We know there's going to be questions, and we will endeavor to answer every single question presented to us in a timely manner.
We want to give a shout-out to Granger Ford for stepping up to the plate and being the first to come up with this type of approach!
Our Offer
.
We are offering to sell 2021 Broncos to those with current reservations for
-$1000
BELOW INVOICE
. There are no gimmicks. Also, if the customer qualifies for the X-Plan (Ford), we will allow an additional deduction of
-$300
. Again,
NO GIMMICKS
. This is all 100% above-board.
We are transparent. Everything we do in regards to the reservation process will be an open-book. It's truly the only proper way to conduct business. We know it, our customers know it.
The question is, do you have your reservation for the new Ford Bronco? The first round of Broncos are not being allocated by the manufacturer to ANY dealership. However, through the reservations, customers are able to pick the dealer they want their new Bronco delivered.
The Plan
.
Here's a few advantages to concerning "
The Plan
". We'll be answering questions and providing a Q&A FAQ sheet concerning "
The Plan
":
Centrally located in the "mid Atlantic region".
Our price is

-$1000

BELOW INVOICE

. No gimmicks.
We are offering an additional

-$300

to X-Plan qualifiers.
There will be no "hidden fees". You'll know before you get here, exactly what to expect.
We will offer additions to your new ride, such as extended warranties, accessories, etc. but none of that will be mandatory or pre-installed without your approval.
We're working to provide bonded and insured shippers for every vehicle (if the customer wants to go that route) and we'll work with the customer's choice of shipper if the customer wants to take care of shipping on their own.
Everything pertaining to the purchase will be "above board" prior to your commitment to our dealership as the receiver of your reservation.
We're working on trade-ins and the possibility of getting your trade-in appraised prior to arrival at our facility.
The Details
.
Below is a comprehensive plan for delivery of officially reserved 2021 Ford Broncos
Customer Orders

We price out the Bronco showing you the invoice, listing our

-$1000

discount from the invoice.
If you are an X-Plan customer, you must inform us at this time, a

-$300

X-plan credit may be applied.

Document fees (per WV State Law) of $250 + 6% Sales Tax ($15) will be added (+$265).

Document fees - Non X-Plan

(per WV State Law)

(max allowable under WV Law) of $250 + 6% Sales Tax ($15) will be added = $265.
Document fees - X-Plan +$100.




WV Temporary Tag of $10 (if applicable).
We DO NOT have administration fees.
Standard WV registration/tag/transfer fees for in-state customers will apply.
Shipping fees (if shipping and we handle the shipment)
Assist with taxes and fees for the customer's home state (if out of state).

Financing

Our finance managers will be available to assist prior-to and during delivery.
Pre-approval may be achieved, we recommend pre-approval within 30 days of delivery.
Options will be made available.
Customer may choose to finance themselves through their own financial institution.

Accessories / Extras

Customer will have the OPTION to purchase accessories and/or extended warranties.
Accessories may be added prior to delivery, with approval of the customer.
Our "extended warranties" DO NOT require the vehicle to be serviced at our location. Vehicle service work may be performed at other locations. Extended warranty related service items may be completed at other locations. $100 or $0 deductibles are available for extended warranties, customers may discuss this and other details with our finance managers.

Finalizing

Customer is satisfied with the build.
Document processing, signatures will be acquired and transmitted between the dealership and the customer.
Vehicle prep and inspection. At this time, we need to know if the customer wants the factory packaging/plastic wrap to remain on the vehicle. Our service department will go through the Ford factory check-list of items to be inspected/serviced.

Prior to Delivery

The paperwork that is needed to complete the transaction (for customers having the vehicle shipped) will be taken care of and physically sent to the customer for approval/signature.
Copies of documents such as insurance verification and driver's licenses of the purchaser should be sent at this time.
Title document for your particular State may be sent prior to delivery so that the customer has an opportunity to title/register and obtain plates for the vehicle.
Customers coming to the dealership should expect normal wait times for financing/documentation (appx. 1 hour).
We will get the X-plan pin at this time (if applicable).
If the customer has a trade-in, prior arrangements may be made to have the vehicle appraised at the nearest ACV location. We will work with our customers to get this scheduled.

Arrival Day:

If you fly in to Yeager Airport in Charleston, WV, we will pick you up.
If you fly to any other airport, please make arrangements for transportation to our dealership at 104 Stephens Drive, Danville WV 25053.
Rental Car – let us know when you are arriving and where you are turning in the rental vehicle. Most of the rental car companies have locations at Yeager Airport, Enterprise has other locations in the Kanawha Valley. We will pick you up at locations near the Charleston or Danville area.
Trade-in vehicle, please drive up to the main building at the above mentioned address, someone will be out to assist or come on in and get a cup of coffee or a bag of popcorn. Let someone know you're there to pick up your reserved Bronco, they'll let the right folks know!

Transport

If we arrange for transportation of your new Bronco, we only use bonded and insured drivers/companies to deliver vehicles. This protects all parties concerned.
When you receive your Bronco, you need to fully inspect every aspect of the vehicle to make sure there's no damage.
If there's damage, please note everything and take pictures. If we arranged for transportation, send these pictures to us, notifying us of any damage.
If you arrange for transportation, we will work with the transportation company to expedite shipment. Please have your shipping company contact us prior to coming to our dealership for scheduling.

Payment

We will accept cash for down payments or to fully pay for the vehicle, in person. Do not ship or mail cash.
We will accept credit cards for payment or down payment, there is a 3% convenience fee for all purchases.
We will accept certified bank checks for payments or down payments, we will verify the check through the financial institution. If arriving on a holiday, a weekend, or after hours, please arrange to have the check verified prior to arrival during normal business hours, Monday through Friday.
For out of state customers, we do not accept personal checks.
And finally, here is the
signed document
, by our General Manager Chase Barton, assuring you of everything we've listed above.
If you have any questions, feel free to contact John Holstein, Manager of the Mid-Atlantic Bronco Connection at 304-369-2411 Ext 32. If John doesn't have the answer, he'll find out for us.
Thanks and we hope to hear from you soon!
John Holstein,
Stephens Auto Center
Mid-Atlantic Bronco Connection
[email protected]
http://www.stephensauto.com/2021-bronco/
304-369-2411 Ext 32
Last edited: