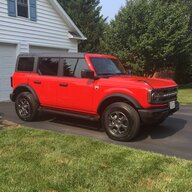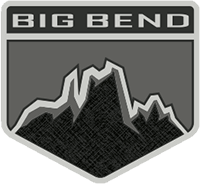 Well-Known Member
So in the interest of giving back to this Forum, since it has given me so much information (and laughs) over the past few months, I am going to post my purchase experience and my first 100 miles impressions with my new Bronco. Feel free to ask any questions and I will try to answer them.
Timeline:
I had a late 7/13 reservation date, ordered on 1/29, had an initial production date of 6/14, Ford changed production date to 6/28, blend date of 6/28, built date of 6/29, initial deliver date of 7/17, and changed delivery date to 7/20. The Bronco was actually delivered on 7/19 and I took ownership on 7/20.
Specs:
I ordered a Race Red, 4 door, Big Bend with a MIC top, 2.7 engine, Mid package, tube steps, sig lighting, and floor liners. I would have loved to have ordered the SAS option, but in the interest of keeping my Bronco within a price range I was comfortable with, I elected to go with the bigger engine vs. the bigger tires and suspension. My thought is down the road I can always add a lift, different wheels, shocks, and bigger tires. Much easier/cheaper than swapping out the engine!
The town I live in has only two Ford dealerships. The one I chose was picked due to convenience. They are only a couple of blocks from where I work, which will make it handy when, inevitably, I have to take it back for warranty work, recalls, and service. This dealership was opened in 1938 and has a decent reputation.....although I have never purchased a vehicle from them in the past.
MIC Top Inspection:
Prior to signing the paperwork, I carefully inspected the Bronco......particularly the MIC top. I didn't see any alarming issues with the outside of the top, just one or two small scuffs (not scratches). I looked the best I could for delamination, as shown in previous threads on here, but wasn't exactly sure where to look for this. I'm guessing you would have to pretty much take the roof off to see the laminated edges. It definitely has the honey comb look on the inside of the roof. While most of the inside is covered in the sound deadening material, the cargo area is not (which I think is kind of odd). This is where the honey comb is most evident, but I'm okay with that. I also did a quick test drive of the Bronco just to make sure it didn't have any evident rattles, shimmies, or shakes.
Purchase Experience:
The purchase experience went very well. The dealership and salesperson were very accommodating. My Bronco, along with a similarly equipped Cactus Gray Bronco, were the first two Broncos this dealership has received! The person that ordered the CG one wasn't going to be able to take delivery until this Saturday, so mine is actually the very first one they sold. While at the dealership, I had probably six employees shake my hand and congratulate me on my purchase (closest I'll ever be to feeling like a Rock Star) Two of them, the Sales Manager and the Finance person, had Broncos of their own ordered that they have not yet received and aren't sure when they are getting them (sound familiar?) While at the dealership taking care of the paperwork, there were constantly people walking up to the Bronco looking at it, taking pictures, and coming inside to ask if it was for sale. I jokingly told the Finance person that I had a FOR SALE sign with me and was gonna slap it on the Bronco and make $20k before it got off the lot!
IMPRESSIONS:
So my impressions of the new Bronco so far? The Good: This thing draws a lot of attention......I even had someone in a Jeep give me the "wave" on the way home from the dealership! The size of this vehicle feels perfect for me. It's not too big and not too small. I am pleasantly surprised that this vehicle rides as well, if not better, than my 2015 F150 crew cab. It handles extremely well for a truck based vehicle. While I haven't gotten heavy into the throttle, it seems to have ample power. I am happy with the overall fit and finish of the Bronco. The body lines and styling are really unlike anything else out there. The MIC top seems to be really tight and snug. I did remove the front row panels, and they are extremely easy to remove, lift and carry, and reinstall. I like the finish of the interior and the positioning of the dash. I think its really cool how Ford placed little nuances to the Bronco heritage all over the vehicle. I really like when looking out the windshield how the entire hood sticks out in front of you. It's not like most vehicles where you can't even see the hood or you just see a little bit of the center of the hood. It actually reminds me a lot of the big hood sticking out in front my 69 Mustang. This thing has a huge cargo area....especially if you fold down the back seats. I am happy with the way the 32" tires look. To me, they don't look too small. Bigger tires with definitely give it more attitude and manliness......and of course be better for off-roading, if that's your intent. I looked closely at the door hinges and behind them, and could not find any missing paint or primer, as some have posted in previous threads.
The not so good: As I mention these points, keep in mind I'm pushing 50 years old and do things the "old school" way. So far I have NOT gotten use to all the darn electronics in this thing. At this point, it's pretty overwhelming and I'm hoping it gets better. The radio, or infotainment center as they call it, is way more complicated than what I'm used to.....still trying to figure out how to just switch radio stations! I thinks it's weird that the windows go down 1/2" when you open the door then go up when you close the doors. I think it's strange there isn't an ignition switch or a key to put in the ignition (push button start). It's also very weird that you don't have to use the key fob to unlock the doors......you just put your hand on the door handle and it unlocks! As mentioned in previous threads, the tailgate is very awkward when opening. I'm hoping this gets better as the strut wears in. The tube steps actually seems to make it more difficult to get in and out of the vehicle. Based on my ride height and length of my legs, I think it may be easier to just step directly into the vehicle instead of on the step. Some of this could be that the grab handle is mounted low on the dash instead of high on the A pillar. As mentioned in previous threads, so far the transmission seems to shift rather harshly when accelerating fairly hard from a stop. I believe someone stated that the transmission has to "learn" your driving habits....to me that is some Voodoo stuff! It put quite a scare into me when I opened the hood. I told someone all I needed was piece of garlic bread to go with the plate of spaghetti under the hood.. There are so many wires, computers, sensors, and lines going all over the place it's crazy! It really doesn't appear that Ford engineers gave a lot of thought to the aesthetics under the hood. I really wished they would've tucked a lot of that stuff underneath or loomed it together to give it a cleaner look......but again, I'm old school.
Overall, I really like the Bronco. In my mind, there really isn't anything else like it available. So many of SUV's out there look so much alike that I can't tell one manufacturer from another. With the big BRONCO across the grill, the nods to the past, and the perfect size of this thing......it's just something different than everything else. I know the past year has been stressful waiting on these things.....Hell, I've been waiting since prototype renderings were released 5 or 6 years ago. But if you're still waiting......keep waiting......it will be worth it! I don't think you'll regret it....IMO.
Day 4 with Bronco UPDATE: road trip
I took the Bronco on a 150 mile road trip today. Mostly curvy two lane roads (35-45 mph) and then finished the trip with about 20 miles of interstate driving (70+ mph). Overall I'm very pleased with the mannerisms of this vehicle. As stated previously, the handling and ride is extremely well for a truck based vehicle. I'm pretty happy with the acceleration....I have never had a turbo engine, so still getting used to that. It seams to lag a bit when taking off, but once the turbo kicks in, the power definitely gets better. My other three vehicles all have SBF's, with them the power is immediate when you hit the accelerator.
The braking is really good in this things. At one point on the interstate, traffic stopped rather quickly......and I was surprised how quickly I got it slowed down. Keep in mind I'm used to driving a f150 which is quite a bit heavier than the Bronco.
We started the trip with the first row roof panels off. They are super easy to take off and fit nicely in the supplied roof bag. Although I can see a lot of these panels getting damaged. While they are lightweight, they are somewhat awkward to handle. It would be pretty easy to drop them, and I would say that would destroy the panel if lands on it's edge! Halfway through the trip, at one of our stopping points, the sun was blazing and it was pushing 90 degrees. I put the roof panels back on.....there again, it was super easy to put them back on.....maybe 5 minutes.
On the interstate the Bronco still felt good in size. actually a little larger than most vehicles.....big rigs aside. Acceleration and keeping up with flow of traffic was very good. There was definitely some wind noise (roof panels were on during interstate driving). I'm assuming the noise was due to the lack of aerodynamics. Bronco held a good straight line....didn't feel like it was being blown around at all.
As far as my previous complaints......I have figured out how to get in and out of Bronco fairly effortlessly. I step over the tube step onto floor board with right leg, sit my right butt cheek onto the seat, put my left foot on tube step, then kinda step up lifting my bottom into place. As far as getting out of vehicle, I do use the tube step to get out. I am starting to learn some of the technology.....it's not quite as overwhelming now. I figure I'll learn it as I go and as needed. I'm sure a lot of it I will never need or use.
Overall my impressions of the Bronco are improving, and the more I drive it, the more I like it. Ohhh......and one little bit of a pleasant surprise......so far on the first 1/2 tank of gas it has gotten an average of 20 mpg! I am happy with that and feel certain it will only get better.
I
Last edited: