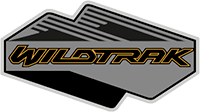 Well-Known Member
Since many of us won't see either of these models before we order what are some similar sized vehicles?

It seems like the 4 door is about the same length as the 2020 4-Runner (189 vs 190). The 2 and 4 door Jeeps aren't too comparable it seems as both Bronco models are longer than their counterparts.

Just looking for peoples input. Might help some folks picture these things in their driveways. Both models look pretty badass. Just hard to make a choice.