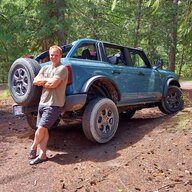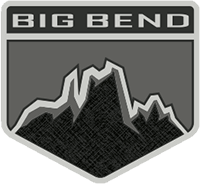 Well-Known Member
First Name

Ben
Joined

Jul 25, 2020
Messages
Reaction score

1,470
Location
Vehicle(s)

2010 Kia Borrego, 2012 Chevy Cruze
We know that the Bronco is "based on" the Ranger and "shares its platform", but we don't know exactly what that means. How many components on the Bronco are the same and how many have been right-sized for this specific vehicle? This is important because the 2.3L with 10A tows 7500lbs in the Ranger. Are the cooling systems, drivetrain, brakes, etc. on the Bronco also capable of handling that? If so, then the things holding back the tow capacity (apart from the current Class 2 hitch receiver) are likely primarily the wheelbase, suspension, and rear swaybar. And if some components have been right-sized, they can likely be swapped out for the ones on the Ranger if needed.

As we all know, the tow capacity is the same across all builds at 3500lbs, even though these builds include two wheelbases, two types of suspension, and significant variations in ride height. For this reason it seems likely that Ford is under-reporting the actual tow capacity that some builds should be capable of, especially the 4-door models. This isn't much of a surprise given what we're learning about the GVWR. Perhaps with enough testing they can give real ratings to different builds, but there may be difficulties involved in increasing the tow capacity beyond the 3500lbs that a Class 2 receiver allows even if the vehicle itself can handle it. I propose that Ford considers offering an optional max tow package that increases towing capacity for those who want it, even if it stiffens their ride a bit. I understand if it would be limited in availability, perhaps only on 4-door models with the base suspension (so no Badlands, Wildtrak, or Sasquatches). Hey if I don't want it then I won't get it and it won't have any negative effect on my off-road capabilities, but it could help others out quite a bit.

I'd like to get a feel for the general mood of the forum members and see if there's enough support in the community to push Ford on the topic. They claim to be listening, and they've already flip-flopped on the Mansquatch once pressure was applied. Also we haven't had a towing poll this entire year. ?