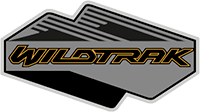 Well-Known Member
I am interested in running some 17x9-38 wheels with 37x12.5 tires. From the what little I can gain from this forum everyone that runs this offset ends up getting fiberglass fenders. I already plan on cutting the crash bars off, is there anyway I can keep the stock sasquatch fenders and run this offset? Any issues with this offset interfering with the back up camera or the bump stops on the tailgate?
Is there anything else I am missing when it come to running this offset on a bronco? This is the offset that I ran on my 5th gen 4runner, and it looks to provide the perfect poke with SAS flares.
Any pics showing the poke or in general would be appreciated. Thanks y'all.
Example Image borrowed from
@Mdsuits
Last edited: