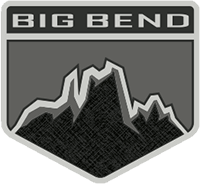 Well-Known Member
SO hearing how bad the bronco is in the SQ dept. I am starting to think about how to go about upgrading the stock base system. I will be getting a 2 door big bend. I have been reading through all the threads I can find on speaker and amp installs. Let's say I have $1k-1500 to spend. Where should the bulk of the money go? AMp? DSP? Front speakers? Sub?

Its sounding like the speakers that have the most impact are the top 2 in the dash. Would 2 really good speakers and a sub be a good place to start? Should I start with a solid foundation in an amp and DSP?

So far my initial thought is something along these lines.

4 x 4" Audiofrog GS42
2 x 6" Audiofrog GS62
1 or 2 8" Audiofrog GS8ND2 subs in a box build under the front seats
(2) 4 channel JL amp (1 for the 4" speakers) (1 for the other 2 and subs)
Some kind of DSP, dont know much about these.

Does that seem like a solid plan? This would actually be a bit over budget, so might just do the 2 4"first and build on from there.