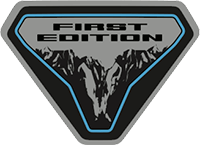 Well-Known Member
The tech features and mpg enhancements are forced, we are getting those even if we all don't want them especially on the top spec trim levels.
The moderate trail capability should be a given as well
I think Ford will knock it out the park with styling, hopefully I'm not giving them too much credit. So I'm saying that's a given as well.

Experience/Lifestyle features are big for me. The open experience of UTV's and Wranglers is very desirable in the SouthWest and makes the kids happy with their new field of vision.

Modification capability is big as well, how customized can I get? The same 4-6" drop down bracket lift kit from the big suspension companies is not my definition of availability or options.

I've said it before, a coyote option is way up on the list for me. At least give me a top spec engine option, I'm not completely sold on the 2.7 but can be swayed and the 3.0 seems promising. I am not interested if the only option at launch is the 4cyl, because I am purchasing next year.
Last edited: