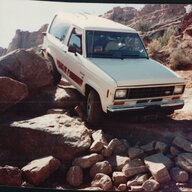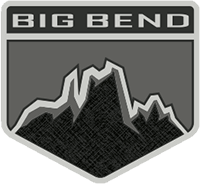 Well-Known Member
The entire existence of the Bronco is a marketing decision. Breakover angle has real world offroad benefits, as does a shorter wheelbase overall. So breakover performance is as much a "marketing" decision as was 35" tires or a good stereo or cool LED headlights or anything else that would make someone want to buy a Bronco.

Per the bajillion 4 door vs. 2 door threads here, some people reeeally like the proportions of the 2 door, and those proportions would be different on a different wheelbase.

What OP is asking for is more like the LJ Wrangler - a stretched 2 door body on a 4 door frame.

People don't want the two door because it only has two doors, people want the two door because they like the size and shape and look and function.
I had a LJ (sold too soon in anticipation of my Dirt Mountain Bronco) that was the ideal size (104" WB). Your photo shows some interesting things: No way could you fit 4 doors on that, but somehow Jeep did it with the XJ Cherokees which defied mathematics and did it on a 101" wheelbase. Also a fault of modern design, drive train is low to keep the CG low. LJ Jeeps are pretty helpless without some lift and bigger tire. That hangy down transfer case was ridiculous.
I think Ford has done well with the Bronco design. EB's were 92" WB, BII's were 94" and FSB's were 104, so the 100 2 door is a sweet spot. 116 makes sense for a 4 door, gives room for people and gear and in some situations can be better off road. Ford also does a good job tucking drivetrain up into the frame, but the hangy down fuel tank and rear suspension are disconcerting. And a little more rear overhang would be nice for gear storage, but they would lose the departure angle battle to Jeep.
Although the XJ 2/4 door was design genius the 2 door really had no advantage in maneuverability and the 4 door had no advantage in interior room. And a common wheelbase in the Bronco would really make no practical sense either.