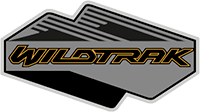 Well-Known Member
While I am fairly new to the forum I do have a WildTrak 4dr, SAS on order and was able to test drive one at my local dealer yesterday. Below are my thoughts on overall experience.

First, the Bronco just looks great and has a fantastic stance and presence to it. I had seen an OBX and Big Bend at a spring Bronco Nation event and honestly was a little underwhelmed at the size and stance as they were not SAS equipped. I am 6.1" and the front hood comes half way up my chest. The rig looks best IMO lifted with larger tires. Shocker I know.

The demo unit had a soft top. While I can see why people like that, I am really looking forward to seeing the MIC top once delivered. The dealer had a two door Big Bend with a MIC top and I really liked the look compared to the soft top. I can see getting a soft top as an option down the road but for me, not as a daily driver option. The road noise was certainly noticeable.

Interior was better than I expected. Again, previously I had not seen a leather interior and it was very nice. Like many others have reported, the seats are excellent and very comfortable. I have been driving a Tahoe for 5 years now and while I realize we are talking about two different vehicles, the Bronco seats are a welcomed feature for someone like me that will be spending a good amount of time in the drivers seat.

The tech is incredible as I am a person that really likes the creature comforts. The cameras are clear and crisp. Wireless charging is also nice. I would say that the center console is small but again, I am coming from a very large console in the Tahoe. It's to be expected.

A/C was pumping out very cold air. No complaints here.

Engine... I am coming from a 5.3L V8 and I haven't driven a V6 in a while. I also have not driven a Ford EcoBoost engine before. Keep that in mind... At first I felt the engine was underpowered given the size and weight of the car. BUT, when I shifted into Sport mode, the experience completely changed. WOW. Acceleration and handling are much better. The Bronco handles very well given the large tire size and height and once I drove for 5 mins or so, I really liked the experience. We didn't put the top down, but I would think that is where the true experience lies and would make it much more fun and enjoyable than it already is. Some tire noise but nothing terrible.

Height... I originally had the standard steps spec'd and took them off in anticipation to add rock rails upon delivery. I just do not like the exposed, unfinished sheet metal. BUT, with the SAS package my wife and Kids will struggle to get in. So I may need to add the steps back or maybe a power step option will be out sometime soon which will aid in getting in and also cover the unfinished metal. Maybe AMP Research will come out with a model soon. I had them on my GMC Sierra and they were great steps.

My wife drove the car as well... for the ladies on the forum. She drives a 2014 Range Rover Sport with a V6 supercharged engine now. She admittedly has a lead foot and drives faster than normal in all conditions. She absolutely loved the Bronco. Especially the "zippy" nature (As she says) while driving. She jumped right in, took off and was visibly comfortable in the seat and pushing the gas pedal. Although it won't be her daily driver, I am suspecting she will be wanting to take the kids around in this thing more than originally expected.

B&O Sound... I regret it but I was more focused on the driving and interior experience and failed to test out the sound system. I'm sure it's adequate but have heard from others it's not great.

In Summary, we were both pleasantly surprised with the WildTrak and the SAS package. It just looks better IMO. We probably won't take delivery for a year or so from now, but we are excited to make the change from a large Tahoe and the experiences that come with such a fun vehicle. If you have any questions, just let me know. Happy to answer what I can.