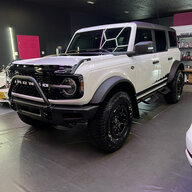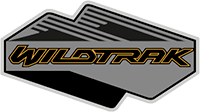 Well-Known Member
Joined

Feb 24, 2022
Threads
Messages
Reaction score

286
Location
Vehicle(s)

Awaiting my Bronco
Your Bronco Model

Wildtrak
So I finally did it! I kept going back and forth on a Badlands and Wildtrak build and eventually went with a WT only thing was I needed vinyl floors. With my dog that practically goes everywhere with me shedding and drooling as much as he does carpet is not an option. Especially coming from an Element as his old car with vinyl flooring. Against almost everyone's advice I started buying up parts while I waited for my Bronco and I kept searching for a price break on the one piece vinyl floor unit that goes under the passenger seats that is available on the Black Diamond and Badlands trim. I knew with the slide out tailgate the rear vinyl one piece wouldn't fit or work and for approx $600-$700 it wasn't worth it. So anyway, I finally lucked out on WALMART of all sites, sold through Lasco Ford titled "Genuine OE Ford Floor Mat - M2DZ-7813010-BA" (which is discontinued) and only one left. . I reached out to
@flip
( who is a godsend and couldn't thank enough as much as I bug him on all the parts and part # inquiries) on the part number to make sure it's good, which it was. Apparently the BA is a good number, but the parts look up only shows AA . I think the BA must be for a different region, considering it has a hard plastic panel under the front passenger seat area that's removable and says "VIN' (pictured below) which I don't mind considering the AA goes for $900-$1000 vs the $672 I paid. So I pulled the trigger in late November 2022 and waited and researched in the meantime until my Wildtrak was finally delivered on 2/13/2023. When I received the vinyl floor it was aged, looked dusty but it was just dried out, I ended up cleaning and conditioning it with a vinyl cleaner which restored it pretty well.
It appears the only thing needed for the transition was drain plugs. Under the carpet there are drain holes and rubber caps that serve as plugs. But from the install it looks like the drain plugs actually hold down the vinyl floor. The carpet and vinyl share the same clips, so nothing else was necessary. One thing I wish I knew before hand is both the carpet and vinyl floor both have a sound deadening rubber underneath. I purchased Soundskinz which I installed after pulling up the carpet but I'm pretty sure as others mentioned most of the noise is from the tops but might as well install if I'm going to remove the seats and carpet right?
I also hate that there isn't vinyl under the slide out tailgate table so after ordering a few different vinyl car mats I found one large enough to custom cut and it worked out great. I just wish I found one with a smooth surface instead of all the ridges and grooves.
Only one issue I'm having is trying to figure out how the vinyl under the rear passenger seat stays down, every time I lift or fold my seats the vinyl floor middle piece comes down while the outer hoops are secured by the bolts holding the seats. I will check out a Badlands or Black Diamond this weekend to see how its secured.
FYI Ford cross drilled the bolt on the rear Slide-out tailgate bracket so I'll be ordering another one.
A special thank you to:
@flip
@jlatigo