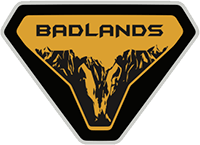 Active Member
I just got my Bronco back from New Image Auto Detailing in the DFW area. If you are in the area, Kody is the best in the business, can't recommend his shop enough. Here is the list of mods/work done so far:
Full XPEL stealth on the exterior and roll bars, plus stealth on the color matched door inserts and gloss on the door sills
Ceramic coating, badge replacement and XR+ tint on all glass.
Beauty rings powder coated black
Roush exhaust installed, the Bronco was damaged in transport to the dealer and they ended up comping the exhaust for the trouble
JL Audio XD600/1v2 amp and HO112-W6v3 installed, the amp is mounted where the B&O sub was. It is wired to Aux 6 so I can cut off the amp power and take the box out in just a few seconds when I need cargo space. The installer mounted a JL bass control knob next to the USB ports in the console.
Agency 6 Shackle Block with a PACLOCK trailer hitch lock
Cravenspeed stubby antenna
OCDplug matte screen protector
Really happy with how everything turned out! Next weekend I plan to add some Raptor lights by following
this
video. Flipping AUX switches is just too much fun.
Last edited: