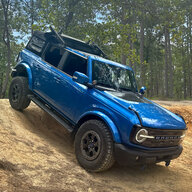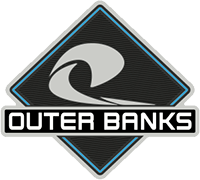 Well-Known Member
I have had my Bronco 1 week & just about 400 miles now, so I figured I would go ahead and make a build thread. I will mostly be doing subtle changes, nothing too crazy, but I enjoy having a place to track progress, as someone who has been working on/modding cars for almost 20 years now.
The Blue Pony, as I have been calling it, is a 22 Outer Banks w/ 2.7 engine, high package, roast cloth interior & aux switches. I opted for the standard selectable 4wd system. This build best fits my uses, primarily pavement with the occasional mild-moderate trail, the standard 4wd system should be more than adequate.
Production line photo. So grateful to be one to receive one of these.
First weekend home! Took delivery before they even had a chance to clean her. She had barely been touched. I appreciated being able to pull off all the plastic, etc myself. The dealer was great at respecting my wishes!
Brought her back to the dealer to get a 3 year Ford Surface Protect nano coating applied which was included with the vehicle purchase. Super shiney now.
First mods:
3" stubby antenna. I never use Am/FM radio so I wanted to get rid of the more intrusive one.
Ford overlay from StickerFab which matches better.
I installed the Ford accessory rocker panel trail armor to protect & cover the unsightly pinch welds. SO happy with the improvement here.
Before:
After:
These were simple to install. I removed the side steps and prepped with provided wipes. One tiny screw on the rear fender well liner/splash guard component needs to screw threw the trail armor, I just created a small pilot hole with a little pokey tool I have and It went right in and came together perfectly. These should have come on the car from factory - but thank you Ford Pass Points for paying for most of it, lol.
I have a few more components to install, mostly PPF currently (door sill protectors, 12" matte screen protector, roll bar PPF) etc..
33" A/T tires were on my radar but seeing the warranty denials for tire upsizing & even leveling lifts, I have put it on hold for now. I want to make sure there are no factory defects and any kinks are worked out in the mean time.