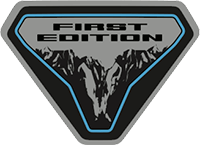 Well-Known Member
First Name

Travis
Joined

Jul 13, 2020
Messages
Reaction score

1,138
Location
Vehicle(s)

Alfa 4C Spyder, Ducati V2, BMW X1
Thread starter

Thread Starter
@BuckinT29

Not stupid at all. We are doing the same thing. A few weeks after the reveal the hype died down quickly for us...B&P did nothing to get me interested again. Maybe in a few years I'll consider but for the money it's not what we are looking for.

@Todkavonic

- really interested to see the satin, maybe we'll cross paths again on another forum. We keep going back and forth between that and the gloss. Wife is very interested in the "env friendly" interior option but we have some time to see it in person. Congrats on the order, happy for people getting what they actually want vs settling (navy pier).

Great taste in your 110 build. We are going to take a look at this over the weekend and most likely order as a 21 in a few months.
I bought 2 new Defender 90s when they first came out. A green 94 manual softtop, then a blue 95 w/white hardtop automatic. The first was misery on the highway and colder than a witches nipple in the winter, even with the heat at full blast. The 95 hardtop was more comfortable.

Anyway, I waited years upon years for the release of the new Defender. Sorry to say, but for me the new one is a complete dud. It lost 99% of the original mojo and now looks like a different version of the Discovery. The Defender was always the rough cousin in the LR family that gave Rover its credentials. Now it looks like a minivan. Look at it, its the ultimate soccer mom, mall crawler.

Thank god the new Bronco came out at the same time because it wasn't even on my radar a year ago. Ford did exactly what I was hoping Land Rover would do, although Ford did a better job than my highest expectations for the Defender. Ford has a blockbuster future success on its' hands while Rover has another SUV that will cannibalize its own sales.

Don't get me wrong, I'm sure it's a nice vehicle, but just in a completely different category than a Bronco or Wrangler.
What D110 forums you guys on, will need to join. Also interested in the satin brown!!!