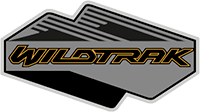 Well-Known Member
I hope this is the correct place to ask questions. I love everything I have ordered and installed so far. Although I haven't installed everything because it's MN and still too cold here
My questions are in regards to:
1) I have the Ford OEM floor mats and would like to cover the Bronco logo on the two mats with Badlands Orange vinyl. Do you have plans to make a Bronco Logo for these or would you be able to provide pieces of vinyl so that I can cover them and trim as necessary?
2) on the same floor mats and the Ford OEM steps the word Bronco is there and looks to be the same size as the letters on the dash above the glove compartment. Do you know if they are the same size and how will the vinyl used on the inside hole up on the outside of the vehicle (is there a difference in materials)?
Thanks for the great Products!!!