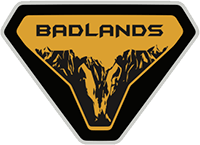 Well-Known Member
I am not terribly pithy when creating titles.
First, everyone is entitled to an opinion. While you can feel free to voice your opinion, I do not have to share your opinion (positive or negative). These are things that I have planned for my Bronco, or have executed.
My Bronco is, as my signature suggests, a 2.3L Badlands, High Package, Non-Sasquatch, No Tow Pkg., in Eruption Green with a Soft Top. I made a choice to change my original order to get built, and, because I work for a similarly large manufacturer in a different industry, I knew when large manufacturers send out emails that say things like "to speed up your build" or "enhance your chances" (or whatever the exact language was) that that is the Public Relations team's code for "we cannot do what you want, but here are your options".
In the end only dropping Sasquatch cost me more in the aftermarket. The 2.3L has so far been enough power, and I didn't really
need
the ACC, heated steering wheel, or crappy, by all accounts, B&O sound system in the LUX anyway. And, in hindsight, I'm not sure why I ever thought I would need Tow for the 7-pin connection (probably didn't give it the right amount of thought up front and just reacted to the word "Tow" initially).
Baby Picture:
Elementary Years (i.e., Day 1 pick up at dealer, no modifications):

And now at home in the driveway (still pre-modifications):
I purchased from Ford Lincoln of Franklin, in Franklin, Tennessee (just south of Nashville). I paid MSRP minus the "special offer" (a.k.a., price protection) of $3,200. I had a great dealership experience throughout and both my sales person and the sales manager were communicative - even if sometimes a tad wrong on their information. I give them credit for trying, and I was always able to clarify by either calling Ford Marketing or listening to you bunch of fellow crazies on B6G (and the other forum).
The Teenage Years (
first three major actual modifications):
I do plan to off-road both trails and some crawling as well. In addition the vehicle is my "daily driver," but I purposefully use quotations because my maximum "daily drive" is 16 miles (round trip, i.e., 8 miles each way) on non-highway/non-interstate roads. And I do that like 3 or so times a week. So, this vehicle is mostly for off-roading/fun.
Modifications:
Removed the OEM wheels, replaced with Method Bead Grip in Method Bronze
I wanted to have the ability to have "bead lock-like" technology without having true bead locks, as a true bead lock wheel is not actually street legal in Tennessee. (Now, I fully realize that just about no trooper or officer is going to have any idea, but I like rules and tend to obey them.) After a lot of research and even a detailed conversation with someone at Method, I was convinced their bead grip technology is what I wanted.​
​
​
Removed OEM 33" tires, replaced with 35" Firestone Destination M/T2 (except the rear spare which is still currently the OEM 33" because my wife's company (Bridgestone) shipped her 4 tires in the correct size and 1 tire in an incorrect size. Ugh. Will be updated to the 35" spare on February 10, 2023 - earliest date they could manufacture and send).
I chose the Firestone Destination M/T2 tires because:​
(1) I want to stay married, as I married way above my looks-paygrade, and driving on the company's tires with whom she is employed is important to her.​
(2) It also happens to be the only Bridgestone off-road tire that comes in a 17" wheel. So... not much choice.​
(3) The tires actually receive strong ratings and reviews. Here's one from
Motortrend
. They are the only true "peak rated" snow tires. So, Coloradoans and Utahns... look out here I come from Tennessee (we don't exactly have "peaks" here in TN).​
​
Since
Discount Tire
and
Tire Rack
are active here, please see links to the tires on each website. You can, of course, buy your tires from anywhere. And, since I get them direct from the plant, I have no opinion on from whom to buy tires. Just seems nice to link these two since they reply to threads here.​
​
Since I dropped Sasquatch to get built, I went aftermarket. After research, I decided upon the Icon Vehicle Dynamics Stage 6 Tubular. I did not need all of the technology in the Stage 8, and felt like the Stage 6 satisfied all of my needs.
​
The pictures were taken by a professional photographer and then I compressed their size. I hope the quality of the photography is maintained with the compression to get them to fit on the site.
Then there is the ARB Summit Front and Rear Bumpers. Here's their picture...
Yeap... on Black Friday (fortunately, I suppose), our refrigerator / freezer compressor and control board both died. So, I bought the LG Refrigerator/Freeze above. Unfortunately, this siphoned away enough (not all) of the funds I had saved for the actual ARB Summit front and rear bumpers that I had to forego that purchase. (Refrigerator is great though. Very spacious... haha)
Here is what I wanted and will likely get in March 2023:
https://arbusa.com/bumpers-protection-equipment/summit-2/
There's a great way to integrate the ARB compressor hoses with the bumper, but I'd do both simultaneously, so I held off on the ARB compressor. Also plan to buy this in March.
https://arbusa.com/air-compressors/
Changes that are "like stickers":
Installed both myself. I would say a maximum of a half-hour to install (I got side tracked mid-install and lost track of time).​
​
Review: They both behave mostly as advertised. The G3 MagMount did hold my iPhone 12 Pro (not Max) on paved roads and gravel roads without using their 3M sticky-back magnets. When I went over a speed bump at my kids' school, the iPhone did fly off. Tested the next day, same speed, same speed bump, but this time with the magnet installed on the back of the phone. The phone did not fall.​
Install was exactly as in the video, which you can access either on the website or using a QR code included with the product.​
​
Stickerfab warning label delete stickers
Short Term Wish List:
Under Hood Lighting
Lighting for the Summit Bumper (ambivalent as of now on brand; have had good luck with RIGID in the past so probably RIGID)
Vinyl wraps or stickers for the interior in the Badlands spots that are currently "orange" to turn them into a Bronze color to match the wheels. The bronze will be my accent color. If anyone sees overlays in bronze, tell me. I've yet to find any in the color I want.
Long Term Wish List:
Wrap, or maybe go all-in with paint, to the exterior in the Bronze color to add a retro stripe look
Those ADV fenders (in the mean time, I'll take someone's OEM Sasquatch ones if you're sellin' for reasonable)
​