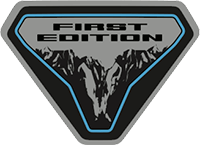 Well-Known Member
So with the new accessory list we know Coverking makes the Bronco sound deadening headliner
I checked their website (
LINK
) and they make exactly the same one we saw from the Bronco picture, for the Wrangler. So I looked on some forums for reviews and there are positive.
example:
https://www.jlwranglerforums.com/forum/threads/coverking-topliner.37185/page-2
"Well, we are 6 months in and love it. Have had a chance to drive a loaner hard top without it on the highway, and the noise difference is noticable. Best part is that we now have a couple of weeks with it in Arizona in hot weather, and it very effectively reduces the heat transfer into the interior from that black top. No issue with it so far."​
​
"Same here. We had some 100 degree days here in AZ and it makes a difference. I can't tell you if it's less or same than hot heads I had in my JK, cause I really don't have the side by side comparison anymore. But I don't feel the heat radiating on my head with the coverking like I do without it. So far, adhesion is good. I need a little more vbr tape around back window where it didn't have any (edges) but the adhesive it did come with is fine and has not budged. "​