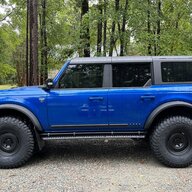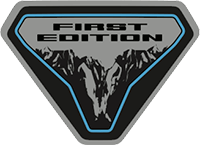 Active Member
First Name

Chris
Joined

Feb 7, 2021
Messages
Reaction score

277
Location
Vehicle(s)

2013 Ford Fusion
So I got finally got to see the Bronco in person today when they visited my hometown of Richmond, VA.
I've read a lot of these first impressions and some of the things I've read finally made sense. Reading is no substitute for seeing with your own eyes, so I suspect you'll just need to see and feel it for yourself and formulate your own opinion.
I should say that I'm a die hard Ford fan and have owned several early and full sized Broncos along with a slew of other Ford products over the years.
My quick initial impressions:
1. Overall they look great in real life. I was giddy pulling the dealer and couldn't stop grinning as I approached the tent and finally saw them.
2. 33" tires on the Badlands look very good and plenty big in person. Looking back at my pictures they look tiny, but they don't look undersized at all when viewed in person. The 35's do look better to me, but I would be fine with 33's
3. The engine compartment certainly has a lot going on, but did not look as terrible as the photos may make it seem.
4. The interior had plenty of headroom and legroom both front and rear in the 4door, but was maybe tighter than I was expecting widthwise. Not uncomfortable, but certainly close quarters and nowhere near F-150 space. Similar to Ranger which is logical. I'm 6'1" & 225lbs. There was also easily another 5" of headroom in the soft top versions above my big head. There was a kid there who was 6'5" and he said he fit with no issues too.
5. The Sasquatch BD was very easy for me to get in and out of. I had expected it to be higher and more of a climb to get into.
6. As a huge Ford and Bronco enthusiast I really don't want to be critical of anything, but to put it politely I feel that they chose function over form when it came to the interior. I do understand they designed this to be a serious top down off roader and prioritized the interior to be water resistant for off-roading and because folks will inevitably get caught in a downpour with the top and doors off. I liked the different feel of the "encapsulated" or rubberized switchgear on the dash and steering wheel and the seats were plenty comfy. Styling or design wise it all visually looks great, but the interior cargo area, dashboard, door panels, and center console were all hard, thin looking plastics. While this is probably the best option for not being damaged by water, to me the materials looked and felt kind of cheap, flimsy or chintzy. I noticed the center console grab handle was really flexy too. It pains me to type that stuff, but it was how I felt during the brief viewing. I'm just sharing my honest first impression. Just my .02
7. I wasn't a huge fan of the marine grade vinyl. It was plenty soft and comfortable and again I'm sure it'll do well serving the intended purpose of being water and mildew resistant, but it didn't look particularly nice to me especially on a $50,000 or $60,000 machine. This is obviously a subjective thing.
8. The flip up feature of the soft top in the cargo area is brilliant. I briefly owned a '15 Wrangler with a soft top and HATED trying to load cargo in through the tailgate with the back window in place. A full bag of groceries would not go into the cargo area without turning it over on it's side first. Rolling up the back vinyl window was tedious. The flip up clamshell top appears to address this problem very well.
9. As others have said, the factory soft top is not insulated and appears to be a single layer that leaves the metal framework exposed. The last time I looked at Jeep the base vinyl top is grey, looks cheap and doesn't age well. While Bronco's top looks far superior with the nice black cloth or twill exterior, it still looks a little utilitarian or unfinished on the inside. I suspect it'll also be noticeably louder than a multi layer top. My wrangler had the optional "sun rider" top from Bestop that I think had 3 layers. Twill exterior which looks nice like the Bronco's exterior, but with a layer of rubber presumably for insulation, noise deadening, and water proofing, and then an interior headliner layer to make it all look nice. I don't remember any framework being visible.
10. I didn't mind the "Bo" bar. Being OCD, it does bother me that it covers the Bronco on the grill but it still looks good. I think the redesign rumors are just rumor. I don't see how they could lower it and not block the camera or raise it and not look goofy and/or still block some letters.
sorry for the long post. in summary, I'm still super stoked about the Bronco and can't wait to take delivery of mine. Clearly the team at Ford put A LOT of thought into the details and succeeded in making significant and well thought out design improvements compared to the primary competitor. But a few aspects of the interior (and lack of a V8) were a little bit of a disappointment to me on what would otherwise be my dream vehicle.
here are the pics:
BD drive away after the event:
Last edited: