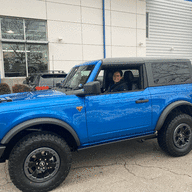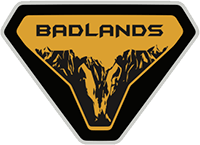 Well-Known Member
First Name

Roger
Joined

Jul 21, 2020
Threads
Messages
Reaction score

2,206
Location
Vehicle(s)

'15 GC, '14 Yamaha Super Tenere
Your Bronco Model

Badlands
Had our dealer's Mannequin WT for a 1.5 hour "test drive" yesterday. First off we're 2 door people and never even looked in the rear seats or cargo area, I had no interest in what was behind the drivers seat.
We love it, huge power from the 2.7, tranny is perfect, steering is phenomenal, brakes are fabulous. I was super worried that there was going to be some sort of show stopper but this thing is amazing. It's so far removed from an EB but the DNA is really there. We've owned '67, '69, and '79 Broncos an '11 Wrangler 2 door and my current DD is a GC (which I love). This is no GC for sure, the ride is completely different, much more truck like but smooth as silk. You definitely know that you're in a body on frame vehicle. Tires are loud top is loud, etc., but man, it sure puts a smile on your face! We felt like were 16 again in my '67.
We thought the interior was great, buttons all felt really good, materials were fine, and all the controls were well laid out. Personally, the big screen is nice but I felt it was too big for the space. Really no reason for it to be so large, we'll be happy with the smaller one. If it was up to me, I'd ditch the screen all together and just have a nice dash like I had in my '11 Mustang GT.
I'd forego the "trail sights" as well. I feel that they sort of mess up the line of the hood, they nailed the front end on this thing but to me, muddied the waters a bit with the trail sights.
Lisa was crushed when finding out RR was no longer offered for '22, didn't care so much about all the different models, but really wanted a 2 door, auto, the 2.7 and that beautiful Red (we got bumped with the MIC top fiasco) but Velocity is growing on us and will more than likely be what we re-order.
Lisa is 5'5" and drove it like she stole it. Her DD is a '17 Civic Hatch, so a "bit" of a change for her. Last Bronco she drove was our '79 with a 4" lift and 36.5" tires, LOL, but that was over 20 years ago. She needed the side steps to get in and out, no SAS for us. BL on 33's will be perfect.
Overall, a great time driving it, but we've been waiting not so patiently since Ford first teased the Bronco re-launch in what? '06??? The wait is getting a "bit" ridiculous at this point but we have two cars that we really like so I guess it's just more of a waiting game at this point. It's getting quite tiring having to explain why we don't have a Bronco yet to friends and family. I'm going to lose it if I have to explain the Bronco Sport to one more person...........
Last edited: