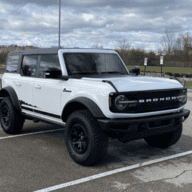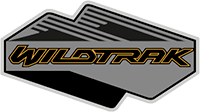 Well-Known Member
Joined

Jul 24, 2020
Messages
Reaction score

5,502
Location
Vehicle(s)

13 10A Rubi, 14 HR Rubi, WRX, 19 Edge
B6G I WAS THERE TODAY (Wednesday)! I drove back from Alabama to Pittsburgh and HAD to re-route through Townsend, TN. My thoughts From seeing these live:
1. DAMN! Simply Amazing. The 2021 Bronco in real life is awe inspiring - and I own/ed 2 Rubicons. I actually was a nit picker on some items here on the forum but the pics do not do them justice and the pics are no comparison to seeing them live. The size, scale and detail is absolutely above expectations. Interior and exterior was way better than expected. The whole design team should be so proud - this rig will win awards. I Left there super excited and I cannot wait to get my Bronco and now I want my Bronco yesterday.
1a. A51 is going to be very popular when people see it, it's really a great color on the big bronco. Me likey.. however probably mine will be oxford white (wife was there and she likes white or AMB)
2. Ford showed up very well. They had 2 Bronco Sports, the 4 door overland Bronco, 2 door trail Bronco and the blank chassis. They had sign up booths for info and many employees on hand to answer questions (granted some knew much more than others). Got some swag (2 awesome mugs, pic below).
3. I can't say enouh how much the 4 door looks AMAZING! Everything is right on it. 2 door is good too, don't get me wrong but I am so glad I'm getting a 4 door.
4. The grey MIC top actually looked perfect on A51. I was a person who in previous pics did not like it but I 1000% could live with this (on A51). I'd have to see it live on other colors but it looks great live and does seem darker in some views and lighter in others. But on that rig, it was GREAT. The grey MIC top almost feels like (hard) shark skin. It is not smooth-ish like Jeep MIC black tops. I doubt you could paint it without sanding - but don't get me wrong, it totally worked on that Overland A51 rig.
5. Saw both the black leather (In the 2 door) and the black/dark 'Marine grade' vinyl In the overland 4 door. Both are actually VERY nice. I lean to the leather but that is simply a personal preference and could live with both and be very happy. The pics of the Overland reveal show the seats very well. I am excited to see the other colors but either will be amazing on your Bronco.
6. The washout floor looked great! Seems very functional and with any floor mat over it, would look very nice and not 'too basic'. There are floor mat holders embedded into the floor to hold the mats Which is great.
7. The interior of both trucks (both Badlands) were perfect in my opinion. I really liked the lighter/cactus-ish great on top and bottom and the carbonized grey in the middle of the dash totally work.
8. The 2 door had the 8" screen and the 4 door had the 12" screen. I really like the 12" screen better and will pay for the high to get it.
9. The orange trim color is not that bad. I was speaking to one of the engineers for Ford there and he kinda showed me how they come apart (by removing the Bronco screws) and if I wanted to change the color it would be easy to paint them. All the orange parts can be removed and painted. He was not sure if other colors would be made available in MY 2021 or not aside from the he orange/blue/grey we've heard about.
10. Two separate Ford people there told me (In separate discussions) there is no plan for a white or black MIC top in the near term - to me that meant MY 2021. Both said top options (to their knowledge) where grey MIC, black painted and body color painted on certain trims.
11. I asked about the 360/front camera and the engineer told me they are in discussions with Warn to redesign the existing/displayed winch to possibly A) move the solenoid or B have ford adjust (read relocate) the front camera so the winch does not obstruct viewing.
12. IMPORTANT - this may or may not be in the other Overland thread but the 4 door A51 Overalnd Bronco there today was NOT Sasquatche'd. This was a non-squatch Badlands and they simply added after market wheels and 35x12.5s to them. Again, this was not squatched. We then spoke about the difference and the engineer said the really difference is "about an inch of extra height when squatched. he also said sqautching gives you more height but less articulation and non sqautch Badlands give you a finely bit less height and more articulation. He drove that overland this morning and said adding the 35s Did not rub in regular driving but might if taken off road ing. FYI - the tires on this 4 door A51 Bronco were 35x12.5s NOT 315/70s. These are not the stock tires. The blank chassis there did have squatch wheels with warm allow rings and had 315/70s. Do note how this rig appears to not have a lot of extra clearance above the tire before the flare. Lifting 2 inches or even a 1.5 leveling kit would make this look even better.
13. See edit... The above also means when viewing this rig it has non-sqautch flares As I was told this rig had regular flares. These flares looked totally fine and the 35s were dead even with edge of the flare and did not stick out past it. I am leaning to ordering the 33MTs with optional wheels and adding 35s/315s when I get it home from picking it up - and I feel good they won't stick out and throw rocks.
EDIT - thanks to
@Ksjrb03
who pointed out they may be even though I was told otherwise. in looking back now at pics, it appears I may have been told wrong info as I went back to my pics and in my pics the 4 door does appears to have wider flares but again, they specifically told me was non squatch flares, but they could have been wrong.
14. 4 door would look totally fine with 33s but I do like it a lot better with 35s or 315s. The 2 door looks great on 33s so going 35s there is a personal preference.
15. All the extra parts such as tailgate tables, slide out fridge looked great and I can see myself buying a lot of that. Real nice work by vendors and ford there.
16. The roof rack is a must have, and I'm not talking about the rooftop tent. The rack itself is sweet and I am getting it.
17. Both the optional black allow Badlands 33 bead.ock wheels and the Sasquatch wheels are great. I can't decide which is better but both are must haves Over the regular badlands wheels, even though I have only seen CGI pics of the regular Badlands wheels.
18. The carbonized grey grill totally works on both Broncos and I never found myself thinking 'theres too many greys going on here'. as with point 1 above, the colors work, even the MIC top (at least on this A51).
19. The Bronco sport is actually really nice. I think this will compete very well in the class.
20. cyber orange was there on a Bronco sport and in real life is kinda school bus yellow, it is nicer than the real school bus color But Sorry CO folks but as it was more yellow than orange.
I'll add more as I remember but again - I was SOOO impressed and can not wait to get my Bronco! I have a ton of pics but they are similar to the other threads. But here is my Bronco swag...
Last edited: