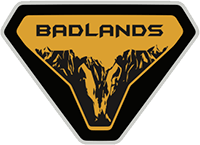 Well-Known Member
Joined

Jan 30, 2019
Messages
Reaction score

374
Location
Vehicle(s)

2021 Bronco FE 4dr (His), '22 Bronco 7MT (Mine)
Bronco

Badlands
There are a lot of misconceptions and silly false truths regarding the Bronco, let's put those to rest.
Program Code: U725
Job 1 Date is December 2020
2021 Model Year
V6, 2.3L Ecoboost
10-Speed Automatic, Getrag Manual
FAA/AA1 was reached several months ago, meaning final exterior design was settled on.
FDJ/PA was completed by November 2018, meaning final design was frozen for production and now prod. grade in execution.
April 2019 are when the first VP1s come off pilot plant, meaning

prototypes have been running since May.

Launch date is January 2021, possibly Feb 2021
Development began in 2015
New T6 basis, being developed in Australia. U725 Bronco top-hat in Dearborn, MI

Hybrid was called off at the time of this announcement, but got back on deck last spring internally.

2023 MY Raptor Bronco Launch [updated April 2, 2020]
I am not sure what has been going on with these absurd "news" reports from lazy and obtuse writers, but it is obvious the next F-150 will launch before the Bronco due in January 2021. Off-Road magazine was actually referring to the facelift P558 Super Duty, which will be unveiled soon for MY 2020. That will be replaced by MY 2023 with P708.
The next Ranger (P703), not the latest P375N will use the frame of the new Bronco, in some 33-36 months. The P703 launch is tenative for late 2021-22. That will offer the Ranger Raptor for USDM, the P375N
(USDM)
was not developed with the Raptor in mind. P703 will be.
What I do know is, a reveal cannot be more than 18 months before market launch in January 2021. You'll not be seeing it without camouflage until next year, but you will start seeing them test soon. (Ditto for P702 F-Series-
Spotted May 2019
)
The Bronco as of August 2016, had a scheduled start of production date of July 1, 2020. At that time, the P375N had a November 1, 2018 production date. At the 2017 NAIAS press conference, it was highlighted production of the USDM Ranger would begin in late 2018 for introduction "
in 2019
" and Bronco "
in 2020"
.
Verification prototypes will be completed in April at the pilot plant, but currently U725 parts for prototyping are being procured.
In the end, the 2019.5 Ranger was on time with everything. Sadly the U725 is not on time and so far, about 5 months behind schedule. Production is due to begin in Wayne Michigan, in December 2020. Units will arrive at Ford showrooms starting in January 2021. Launch can reach up to February 2021. Originally launch was supposed to be around Labor Day 2020, after SOP around July 1, 2020. That will not happen anymore, but styling is finally done and no more changes as of November.
****UPDATED IN GREY ON NOVEMBER 2, 2019; UPDATED in RED ON APRIL 2, 2020***
Last edited by a moderator: