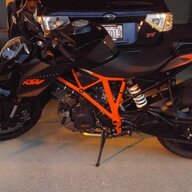 First Name

Mike
Joined

Sep 16, 2020
Messages
Reaction score

200
Location
Vehicle(s)

2011 Subaru STi Hatchback / 2014 KTM 1290R
Good stuff. I will look into Colorbond too. I painted my dash back in HS from brown to black but used duplicolor. For an 18 year old HS budget, it actually came out well. But for the Bronco, I may look into seeing how much a specialist charges. We could do the same for the tan color on the other area of the dash and doors too! The good news is that we have options.
I probably should've included another link I was sent, from an good buddy I used to work with when I did auto body refinish/repair work.
I bumped into him on Facebook over the holidays and the subject of the new full size Bronco happened to come up. One of his younger brothers has a reservation in for an Outer Banks and doesn't like the dash color choices. He wants to have the Bronze parts re-colored to Black, once it's figured out how the whole dash assembly is put together. (same train of thought as me)
Anyway, he sent me a link from a C5 Corvette forum about a person who 'updated' their interior.
Decent read & food for thought.
Going that far on a $50k+ vehicle, like some Bronco builds, seems nuts, but unless Ford changes things (highly unlikely for MY '21 and maybe '22), there are those of us daring (or crazy) enough to do this.
Also, the upper instrument panel shot, from the cup holder thread the other day, and the dash shots from the 2-Badlands walk-around video have given me a really good idea of how the whole instrument panel is put together. (I just NEED an exploded assembly view to confirm it)