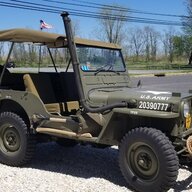 First Name

Glenn
Joined

Sep 8, 2021
Messages
Reaction score

161
Location
Vehicle(s)

Lincoln MKC
Bronco

Undecided
Got my Defender last week, lifted it in my garage this weekend and slapped on some bigger tires. Love how it's coming a long, looks great on the road and I've been stopped multiple times by onlookers etc.

What a terrific vehicle. I'm surprised how big it feels both while inside the cabin, and while walking around it. Quite a bit taller and wider than a Bronco, with a lot more room on the inside. It's significantly larger than a Jeep or a 4Runner as well - it has presence closer to a full size pickup truck actually which is both good and bad. Visibility can be awkward in spots, and it's a pita to get into. It has a 3rd row, that is basically pointless and only functions to say "3rd row" in the marketing materials.

That said, it's not without it's warts. I have the dreaded A-Pillar sound, driving at highway speeds it sounds like a bunch of sand hitting the windshield, and will require the trim on the A pillar to be repaired or replaced. Also, at very low speeds (sub 30MPH) there is a distinct rattle on the driver door/B Pillar area. Sounds like it needs to be tightened or something there, perhaps inside the plastic shroud where the seatbelt mechanism rests.

Love the interior, and really like the virtual dash and materials. Almost everything is soft touch and very compliant. The Clear Sight rear view camera in the mirror is interesting, but it's almost too realistic and not sure how much it's needed. I got the advanced off road package, and am putting that through it's paces out at the black mesa this weekend. The surround cameras, particularly of the tires in off-road camera view are particularly impressive. The entire thing looks and feels very premium, and the interior is one of the best I've sat in. Very airy, bright and classy looking. That's why the rattles are so obnoxious, because every thing else has been very well thought out and designed. Heading out to the mesa's this weekend with a new lifted Gladiator, a few Wranglers and a Raptor and I suspect this truck will perform well, but will report any issues or complaints.

Overall, very impressed but the build quality is light years off of Porsche, BMW in terms of fit/finish. The rattling is especially annoying given the location of the rattles and the cost of the vehicle ($75k). Not enough to make me want something else, mind you, as I think this is my favorite looking vehicle I've owned, but something to consider if you're looking for one. That coupled with JLR's "legendary" reliability should give some food for thought.

Below pics are factory with the "normal" tires, and then the after with the newer tires and small Johnson Rod lift.
I am not a fan of black nor the 4 door. BUT I am going to tell you how much I like that one. Looks great and best of luck with it.