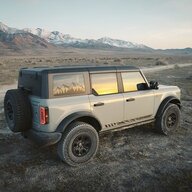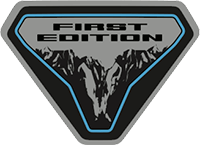 Well-Known Member
So a few days ago I brought you a detailed report about my ride at KOH here:
https://www.bronco6g.com/forum/thre...ack-report-and-new-information-gleaned.12330/
I told you I did not post more pictures cause I have the same as everyone else. That was true for my phone pictures. What I did not tell you is that I brought a pro DSLR to take a comparison of 33s and 35s with a lens corrected for distortion at a focale that is close to human eye for proportion.
So here you go.
EDIT: I feel the question coming. Yes when I saw them for real when taking those pictures it looked and felt like those pictures. They are "true to size". My opinion is that 33" look good but the 35 look a bit better. My first thought when seeing them the first time was "it's less difference than I thought it would be"
Capability is very similar, all the Broncos at that event (on 33 and 35) were doing the same course at the same speed. An engineer at Bilstein who helped develop the shock even said he would take the 33s cause "travel is king" and he did not like that Ford reduced travel on the 35s. So it's mostly a look question. Is the slightly better look on the 35 worth $2500 (on a Badlands)? Do you favor the 1" higher clearance? or the 1cm better travel? Only you can answer. Personally, I am still undecided.
By the way, just trowing that out there but I just test drove a 2.3 ranger today and a 2.7 F150. I floored both 8 to 10 times from 0mph and from 20 and 50. Honestly very little difference, and I would say that the 2.3 even had more character and was more fun. BUT the F150 was 400 pounds heavier. Still, I do agree with the Bronco driver from KOH when he said both engines are perfectly fit even on a loaded Badlands. After discussing that with him, and driving both myself I decided to go with the 2.3. Unpopular opinion for sure, but just sharing my thoughts for those who can't decide.
EDIT2: I have just created an IG account where I'll post more pictures from the event as well as when I get my Bronco. Don't hesitate to follow along!
https://www.instagram.com/broncoexplorers/
Last edited: