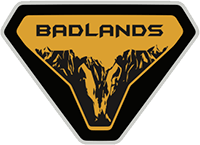 Active Member
I got my badlands about 2 months ago. It was one of the first in my area. Being a car guy and having every kind of car imaginable my favorite car has been one of my 2 Rubicon's. The 10th Anniversary was my favorite car beating out much more expensive cars. After 3k miles this Bronco has surpassed all expectations and is really my favorite car I've ever had.
The only thing my car didn't come with on my order was the B&O sound system. I fixed that by adding a couple compact Cerwin Vega woofers, a Rockford Fosgate amp and changing all other 6 speakers to Focal.
I took of my Sasquatch package so my order would get picked up early and it did. I actually liked the 33' inch tires and wheels as they were a gunmetal grey not black how it looks on the ordering site. However I had my mind set on 35's so I bought Black Rhino Gunmetal wheels and Toyo A/T tires.
I added a a couple LED front corner lights as well as a a LED bar.
I ordered from the dealership the Sasquatch fender flares and had those custom painted in Cactus Grey to match the body color as well as all the door handles.
I also had the Ford Logo painted the grill and roof color in a metallic grey with white trim to match the front grill as well as the Bronco back emblem. This minor detail made all the difference for me.
The only thing I'm waiting on is a front bumper brush bar and lights. I ordered one with the other LED lights but the brackets didn't fit the Badlands modular number to Rough Country is working on brackets specifically for that bumper.
Love the ride it's a 10 plus!!!
Last edited: