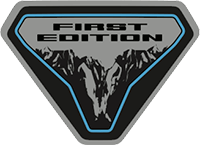 Active Member
First Name

Rocky
Joined

Jul 25, 2021
Messages
Reaction score

121
Location
Vehicle(s)

'21 FE Cactus Gray; '16 GMC Yukon XL;
Bronco

First Edition
I finally got to install my
@Baja Designs
bumper pocket fog light kit this. morning. Everything was super easy except loosening the T40 screws on the underside of the bumper. Luckily, my Ford Dealer was super excited to see a 1st Edition roll up in the service bay and they graciously loosened the screws for me. It looked like they were painted with the bumper and it took two technicians to loosen so they didn't strip the screws, but they got them out! That's really the only issue I had.
Everything on this kit was super straightforward and easy. I wired the SAE lights to Aux 6 since it's easy to flip while driving and put the spots on Aux 5. Again, the upfitter option was so easy it actually makes me want to add more accessories!! Such a great feature on this Bronco. We tied the extra wire to the crash bar to ensure it was out of the way of the front wheel as well as keeping wires invisible. There's also plenty of space under the hood to tie off the extra wires without getting in the way.
All in all, I 'm super pleased with both the function, look, and ease of install with these Fog Lights.
We ran the wire from the px side in front of the bumper using the skid plate connection point as a reference (coat hanger helps here!!)
Kept the extra wires in front of the wheel well to prevent any rubbing. The top of the crash bar has holes that you can zip tie to.
Plenty of space to drop the wires down to get to your fog light pocket (again, coat hanger helps!!!)
Easy tuck in of extra wire by battery. No heat or moving parts here.
Again - so easy and happy to have these upfitter wires just ready for you. Grounding points here as well.