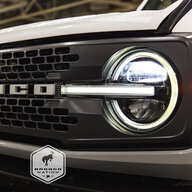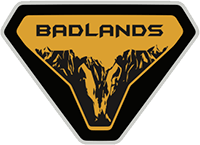 Well-Known Member
First Name

Ryan
Joined

Nov 17, 2020
Messages
Reaction score

1,297
Location
Vehicle(s)

2013 F150 Eco SCREW 4WD
Took off work today, drove 2.5 hours to see our first Bronco. We were guessing from the other events posted we were probably getting to see the VB BB and Red OBX that were in Florida. Shocked when we saw two identical Badlands side by side representing both shades of red! We were absolutely smitten by the two red BL's, so much so, we called our dealer from the parking lot and changed our order from oxford white to rapid red. Overall impression : piss your pants giddy.
Couple takeaways:
1. One of the drivers said he's been seeing around 23MPG @60MPH (both were 2.7's) If you have a vehicle that shows real time MPG'S, you know your average is going to be substantially lower over the course of a tank of gas, depending on how much starting and stopping you do. That being said, the trip odo screen was showing avg 21.xx since last reset.
2. Engine bay appearance: I never even asked about this. That same driver was just talking about random stuff and pointed out how lots of the plumbing and wiring harnesses n stuff was somewhat elevated over the top of the engine to facilitate a higher water fording capability. He pointed out that the (one of the?) ECU's is actually mounted right above/on top of the passenger fender well, you'd have to completely submerge those tires and then some to get it wet! Makes sense, pretty cool, had never heard this explanation before.
3. LOVED MGV! Loved the look and feel of the seats, agree with others descriptions on this. Like a stretchy rubberized silk or something. Washout floors are nice! I expected basically rhino liner on bare metal- not at all! Its actually hard to describe, like theres a thickness and a softness to it, almost padded neoprene-y feel? It has a great feel to it.
4. 4DR on 33's proportions are great. In pictures, I liked this build a lot, but the "4 door needs Sas" camp did have me worried it might look stretched. Negative ghostrider. This is the way.
5. These will be making the Louisiana stops, we get to see them again Friday, this time with the three kids in tow. Gonna put the whole fam damily in there and see if we can blow up that GVWR!
More pics:
Called dealer today and changed our order to this exact build (except got MIC , not softop) We could not take our eyes off it! Wife is as excited as me now!
SWAG!
Race Red looks amazing in person too! If rapid red had not been sitting right there next to it, would've jumped here 10/10. Gorgeous in the sun!
Last edited: