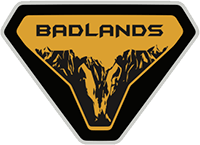 Well-Known Member
Dear Bronco6G,

First, I would like to thanks everyone very much for your input and recommendations in regards to your selections and things to look for. I FINALLY HAVE DECIDED THAT I WILL GO WITH THE BADLANDS. FOR REAL THIS TIME. LOL

Here is why:
1. Number one reason I am getting a Bronco to begin with is "OPEN AIR" Living in Miami, FL it rains all the time. The standard seats on the Badlands work perfectly.
2. Wheels. Even though I do not need the bigger tires and really like the standard tires on the Badlands.
3. After talking to my friends, I do plan to take this out off-reading more then expected.
4. I realized that 12 inch, High Package is not really important to me.

However, I do plan to upgrade to 2.7 L / Auto.

When all is said and done, I still will be below $50,000 for a great Bronco!!

Below is my thinking when a started. Thanks for opening my eyes!! I do not plan to wear a dress and go to soccer games anytime soon!!