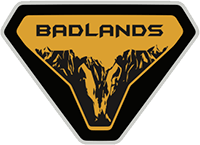 Well-Known Member
First Name

Max
Joined

Feb 9, 2021
Messages
Reaction score

73
Location
Vehicle(s)

2021 Bronco
Bronco

Badlands
I understand your point, however let me express a different perspective. Experience allows you to do more with less equipment, less vehicle capability. Yes, an experienced driver might try more and so make use of better equipment, but a less experienced driver can make use of better equipment to make up for less experience. So, I would argue that driver experience doesn't have anything to do with the benefit of getting better equipment. Just another perspective.

Agree with the first part.

Seriously disagree with the second part regarding 37" tires. Could hardly get more serious about off roading than me. Again, just a different perspective, and I understand what you're saying. It's kind of back to the experience thing. I'm getting a non-Sas Badlands on 33's. I'm very confident it will do what I want to do. I might end up getting 35's. I will never get 37's because I will never need them. My current trail rig is an XJ on 33's and I regularly out wheel Wranglers on 37's. I enjoy doing more with less. I have no problem others getting 37's, but how hardcore any of us are really doesn't have much to do with tire size.

You're from Colorado, I assume you've run Poughkeepsie Gulch and done the hard side at the top with The Wall. I did the Wall this summer in my daily driver XJ with 2" lift on 30's and open front and limited slip rear. Experience trumps tire size every time. BTW, just throwing out another perspective, I get what you were trying to say.
sorry to keep this short (getting the kid to bed) but you're right. Tire size certainly doesn't trump experience in any way and I don't think I spoke clearly or correctly. I guess what I should have said is most of the people I know who are hardcore off-roaders have 37"+ (for the record - I'm definite *not* a hardcore off-roader by any means and will defer to your experience…which honestly I'm guessing is probably a good deal superior to mine).
As for Poughkeepsie (esp the wall) - I've never driven it (rode as a passenger). Super impressive and like I said you're definitely more knowledgeable/experienced than I am. I'm working on getting better but I'm pretty cautious. Honestly probably a bit too much. My job is all about risk assessment and that bleeds over into my driving.