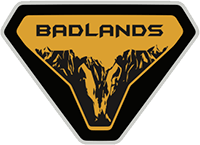 Well-Known Member
I was actually thinking those were the smaller ones. Which would lead me to believe that the standard ones are the correct flairs for anything up to a 285 tire, and the 315s need the wider ones.

Here's a picture of a squatched bronco with what I assume are the wide flairs, and look wider than the ones in these shots.

Squatch (315 35" tires):

Wildtrack non-squatch (285 33" tires):
You're right, once you put them next to each other it's obvious. It's what I thought was the case all along. Guess I'll be getting the bigger flares and 35's for my manual Badlands...