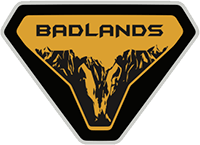 Well-Known Member
My wife and I went to the Battlefield Ford Bronco event in Manassas, VA today. The same two Broncos that were in Richmond yesterday were there, an Iconic Silver Badlands with Lux and optional wheels, and an Antimatter Blue Black Diamond with Sasquatch. Both were 4 doors.
Our impressions and takeaways:
1) Overall impressions. Loved the Bronco. The 4 door is perfect. Looks amazing in person. I was overall blown away by how much I liked it. My wife did too, who basically didn't know the difference between the Bronco and the Sport before today. With doors and without, it was great looking. It looked tough and well proportioned. I had been rethinking the 4 door a little bit, but this sealed it for me and the 4 door. It is the right size and look for me.
2) Sasquatch v. Badlands. Get Sasquatch. Sitting next to each other, the Sasquatched truck looks MUCH better. Much more impressive. It just looks perfect. The Ford accessory rep made the comment that it looked a lot more than the difference of 2 inches in tire size, and I agree. This truck looks awesome on 35s. The Badlands looked good....the Sasquatch BD looked great. Amazing.
3) Interior. Solid and appropriate. Both were MGV interiors. The seats are soft and comfortable, but will never be mistaken for leather. They do feel thinner than boat seats, but boat seats typically have much firmer padding (the ones I have been on at least), so maybe that's it, but I worry about durability and dogs claws. The wash out floors were great looking. Much better quality than the rubber floors in my FJ, and they had padding and give. Very nice floors.
4) Colors. AMB is better than Silver. Antimatter Blue looked great in person. Fantastic. I apologize for my comment yesterday to the Clemson fan who claimed it was the best color available, and I said it was horrible on Bronco. That may be the first time a Clemson fan has ever been right that I can remember. It was a really good color in the sunlight. It will show scratches badly, and thus I won't switch, but it it is very cool. The Iconic SIlver was just plain and to me, boring silver. If your priority is not showing scratches: get it (or white). If not, skip it.
5) Sasquatch Suspension had 1" more lift than Badlands. I measured 3 times from hub to first metal on the front fender. I know this goes against common thought, but I was careful and deliberate with measuring. The Badlands had a 2.3 and the BD Sas had a 2.7, and maybe they use a stiffer spring with the 2.7...not sure. But it had a taller lift by an inch.
6) The soft tops were of very nice quality. I can't get over the ridiculous wrinkled windows, but the tops looked nice.
7) Grills. The BD Grill is better looking than the Badlands Grill. Anyone in VA want to switch when we get ours? I know I am in the minority on this one...so I think I'll be able to find someone to switch with. It is tougher looking.