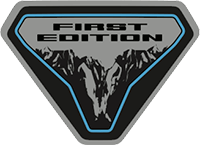 Well-Known Member
I sent my 3rd and final email to Morrie's this week asking about their pricing and have not heard back. I'm seriously considering Granger at this point, though I did get a call from Superior Ford today asking if I wanted to put in a reservation

In other news, I think I'm going to step down from the First Edition. The more I research, the less special it is, so why not save a little money for accessories? I'm leaning towards the Badlands at this point. To be honest, I've changed my mind probably 10 times already this week. I'm hoping the build & price will make the decision easier.

Anyone else not sure what they're getting?