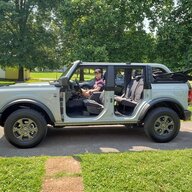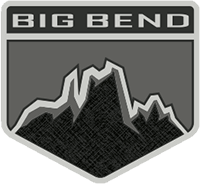 Well-Known Member
I ordered the Bestop Bimini top literally two days ago through my dealer. They said yesterday it was backordered, then later that day IT ARRIVED! Below is installation/thoughts:
INSTALLATION:
The directions scared me because they only mentioned a hard top, despite the Accessories catalog saying it fit both. But with a little common sense it's not an issue.
In the instructions, this bracket goes on the current hardtop bracket. But, alas, the softop bracket is farther back and different in design. But there is a pre-threaded hole for the bolt in exactly the right place. Crisis averted.
Not sure if you can make it out, but I screwed the back straps to the outside of the speaker bolt. The instructions say to attach it on the inside, but I didn't like the fit. It seems to be designed to go the way I did it. Win for me!
END RESULT:
THOUGHTS:
I had expected it to be easier to take on/off. Apparently, at least one bracket will need to be loosened and a the back straps unlooped from the buckles. 5 minutes maybe?
The front clasps have to be undone and the front part of the Bimini buttoned to itself to shut the top. I'll let you know the ease of that...
UPDATE:
So a trip to town later...
There is a good bit more wind noise at 60 mph, but livable.
Hey, those plastic clips that weren't in the instructions... apparently they are used to keep the extra cord from flapping everywhere. Who knew?
Flapping of the shade is minimal. I wouldn't enjoy the interstate with it on I imagine. But the highway was ok.
It did a good job of cutting down on the sun. Overall did what I hoped in that regard.
UPDATE (2)
:
The clips went on easier than I thought. I used a key to pry open one half of the plastic clip and slide the other side of the strap in. Then clipped the strap to a tightened part.
Every strap has a clip to fasten it down. I think it will help flapping.
UPDATE (3):
Update:
I snapped the front to let down the top. A breeze except the snaps to hold it in place don't meet without undoing the front hooks, which in turn makes the front sag. But I just flipped it back without snapping and it's fine. Top goes down without a hitch and latches perfectly.
Last edited by a moderator: