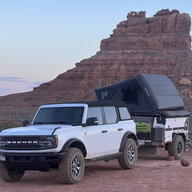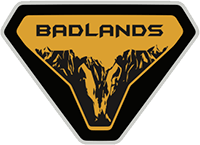 Well-Known Member
Joined

Jul 23, 2020
Messages
Reaction score

2,703
Location
Vehicle(s)

'21 Bronco, '05 LJ & '17 F150
Bronco

Badlands
As a jeep Bestop soft top owner, I can't stand the Ford OEM version with the wavy windows or how it looks when folded back and even in its down position. I rode in the back of a 4dr with top folded down and the clanking of the frame when off-roading drove me crazy.

The Bestop definitely looks better when folded up, but like others stated, not digging how it can't be completely folded down. Ive seen videos now of multiple people damaging their factory tops pulling into garages when flipped back and I think it looks ridiculous just flipped back.

Wife has her soft top Bronco being shipped right now and I'm still contemplating on what to do. Keep the factory top or replace with the Bestop solely for the appearance and twill top. Will she completely lower the soft top or just flip back the top? Original plan was for the hardtop so she could just remove the front panels for her open air experience. So her being 5'2" I would venture to say she won't completely lower it that much. On my 2dr jeep, even I being 6' tall need to stand on my 35" tires in order to raise & lower the top. With the 4dr, it may be easier to stand on the step or door sill but still not confident that she'll go through the effort of folding it completely down.

I could care less about the rear gimmick of lifting the rear window in a 4dr to access the rear cargo area. I'd rather have straight windows.