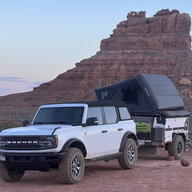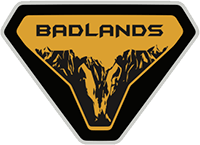 Well-Known Member
Joined

Jul 23, 2020
Messages
Reaction score

2,323
Location
Vehicle(s)

'18 GC Trailhawk, '05 LJ, '17 F150 3.5 Screw
Bronco

Badlands
Didn't Jeep destroy their GC after taking across the Rubicon? I've watched vids of a crown vic running Moab trails.
The GC and new Discovery are unibody suv's, fairly capable, on par with my old Cayenne, but newer traction control.
None of the 3 you mentioned come with front lockers. The 4runner would be closer to the G, once you add a front locker.
All would require significant mods to accommodate 35's without breaking some part of the drive train.
Really, for new there is only the Wrangler Rubicon. It's easy to add 35's and 2.5" lift. The new G will handle 35's, but the aftermarket support for off road parts is limited. The previous solid axle G is easier. There's also the G 4x42 with 37's. The Bronco Warthog spy shots remind me of those. But I'm talking new vehicles here...
I'm hoping the Bronco will come close to the Wrangler. Ford offering 35's makes me hopeful, but I think it still needs another 2.5" lift over the Sasquatch package.

If I have to significantly modify a new truck to handle 35's and triple lockers, or if/when the Bronco doesn't live up to my expectations, I'm going to build a nice restomod IH Scout (or similar) with LS V8, leather interior, and stout drivetrain. Why deal with all the computers and regulations of a new car if you're going replace all the parts with heavy duty ones anyway?
I visit moderate to difficult trails in my heavily modified LJ, wife's trailhawk and my f150 here in CO, UT, AZ areas. I can count on 1 hand how many times Ive needed my rear locker on the F150 and never needed a front locker in the GC. And both vehicles see the same trails that 98% of Broncos will see in those states. For example- both vehicles have ran every trail in Ouray/Telluride thrown at them without issue.
As someone who has had 33s and 35s, I can with certainty say that 33s with the proper under carriage clearance (aka tummy tuck on jeeps) can go 99% of the same places as a vehicle with 35s can.
just like my offroad camper w/ 33" MT can crawl over anything and anywhere (due to its articulating hitch, good approach/departure angle and suspension) that the bronco, trailhawk or truck can go (only exception are hairpin turns like on BB Pass in Telluride).
the crown vic you're referring (hells revenge?)
Wife's 4dr BL will be non-squatch. Why? Because it'll be able to go 99% of the same trails as those with 35s.