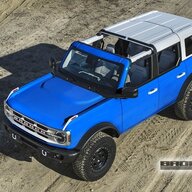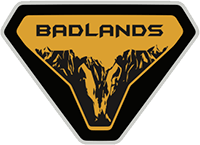 Well-Known Member
Joined

Feb 21, 2020
Messages
Reaction score

21,164
Location
Vehicle(s)

Bronco Badlands
Bronco

Badlands
We can finally answer the ongoing Bronco question, "how much lift" does each trim level have compared to the others?
Now that we have the Ford General Specifications
document
, Bilstein Coilover
Information
and Ford Part Number
information
we can finally get a clear and complete picture on what the stock Bronco lift dimensions are and what is possible to lift each trim level. In this discussion the goal is always to maintain maximum functionality of your Bronco for off-road use. If you want to do something for
looks only
, you may be able to bend the rules a little and do a budget lift, but you want to be cautious of tire rub, binding, CV joints and steering component damage or other unintended consequences.
Vaughn Gittin Jr. or Loren Healey (both Bronco racers) said something to the effect, to put 37" tires on the Sasquatch you need to go up 2 inches and out 2 inches. Going out 2 inches most likely will require new control arms. On the other hand, Ryan of 4WP, only recommended new control arms when doing a lift 3 inches or higher. Further, he prefers a +35 wheel offset to maintain the ideal scrub radius to minimize wear on components. While this thread cannot possibly address every variable, these are general guidelines that each manufacture will handle differently, depending on the lift kits they offer.
Each of the below tables can be read separately to understand the information or points made within that table. Some data is repeated in other tables to provide clarity or present the information in a different way to make it understandable to the most number of people. This thread is intended to help newbies and experienced alike, with those more knowledgeable forum members helping others learn the ropes of suspension modifications and lift. Please post any corrections or clarifications you feel are needed.
Thank you to
@ZackDanger
,
@Razorbak86
for their knowledge shared and for some of our unnamed friends of the forum.
Last edited: